We bring you our Daily Intelligence Briefing courtesy of McAlinden Research Partners. The report is provided to Hedge Connection members for free. Below is snapshot, login to view the full report. Not a member? Join today.
McAlinden Research Partners is currently offering a complimentary full month subscription of the DIB. Activate yours today – http://www.mcalindenresearchpartners.com/hc-trial.html
MRP

MCALINDEN RESEARCH PARTNERS

|

DIBS
Daily Intelligence Briefing – March 13, 2017
Featured Topic: Emerging Markets:
Russia – EU Turmoil Makes Russia the Sanctioned Bond Market Traders Love

India – Modi Win Spurs Jump in Indian Stock Futures, Rupee Forwards

India – India ends cash rationing imposed after Modi's banknote ban

China – China Moves to Make $9 Trillion Domestic Bond Market More Global

Emerging Markets – Hedge Funds Exit Emerging-Market Assets as Real Money Swoops In
---
In the DATA section… more about the U.S. employment picture.
After Friday's very strong jobs report from the BLS, today's release of the Labor Market Conditions Index was underwhelming. That index came in at 0.6 percent for February.
However, the labor force participation rate — the share of American adults who are employed or actively seeking employment — has perked up.
*
---
Other Highlights in Today's DIBs:
---
About the DIBs: MRP focuses on identifying transformational change in the global economy and offering an investment thesis whenever an opportunity arises that has not yet been recognized by the market. The DIBs are MRP's compilation of articles and data from multiple sources on subjects reflecting disruptive change that have potential investment implications for an industry or group of securities. We share these with our clients who may already have or may be considering exposure in the industries affected. The subjects change daily and constitute an excellent update on featured topics. Every day, the DIBs also include links to MRP's MARKET VIEWPOINT, THEME TRACKER and MACRO MONITOR. On many days, the DIBS will also include NEW DATA & THEME DEVELOPMENTS for active themes.
United States, Labor Market Conditions Index, MoM: 0.6 from prior 1.3
United States, Labor Force Participation Rate, Feb: 63.0 from prior 62.9

United States, CreditForecast.com Household Credit Report, MoM:

3.8% from prior

3.7%
China, Vehicle Sales, YoY: 22.7% from prior 0.8%
Italy, Industrial Production, YoY: -0.5% from prior 6.8%
Canada, New Housing Price Index, MoM: 3.1% from prior 3.0%
Malaysia, Industrial Production, MoM: 3.5% from prior 4.8%
Chile, Retail Sales, MoM: 3.8% from prior 4.1%
Russia Bonds – EU Turmoil Makes Russia the Sanctioned Bond Market Traders Love
The political turbulence roiling the European Union is making Russia look like a safe bet to bondholders. For money managers wary of the elections looming in Europe, the worst relations with the West since the Cold War and sanctions on Russia's biggest companies are no deterrent. The nation's debt is cheaper to insure against default than Italy's. A victory for populists in the Netherlands on March 15 could give anti-EU candidates a boost when voting is held in France, Germany and possibly Italy this year.
Russian bonds have the allure of a haven after recovering oil prices helped pull the economy from its deepest recession in two decades and lift the ruble from a record low. With yields nine times higher than the euro-area average, investors are better compensated for risk in Russia than in France. After dropping more than 100 basis points in the past year, Russian five-year credit-default swaps trade at levels that imply the country should shake off its junk rating. Moody's Investors Service raised its outlook to stable from negative in mid-February.
Russia is also benefiting from a broader shift from European to emerging-market bonds. B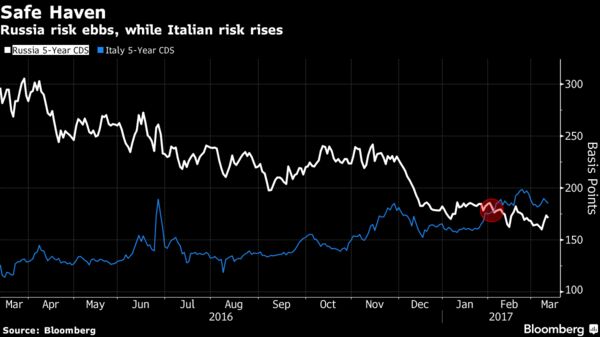 *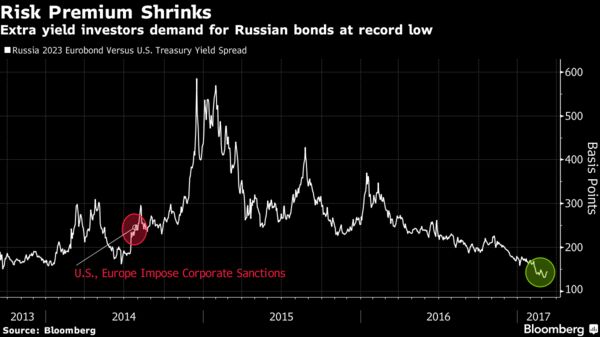 *
India Stocks – Modi Win Spurs Jump in Indian Stock Futures, Rupee Forwards
India's stock futures and currency forwards jumped after Prime Minister Narendra Modi's bigger-than-expected win in state elections increased expectations for a continuation of his reform agenda. The results of the race in India's largest state were seen as a litmus test of Modi's popularity and reforms, including opening up the country to more foreign investment and seeking to introduce a goods and services tax, ahead of general elections in 2019.
India's economic growth has been 7 percent or more in each of the last four quarters, which has helped lured $3.4 billion of foreign funds into the nation's stocks and bonds this year. The election result paves the way for more reforms and should lead to more inflows, supporting the rupee and asset prices, said Khoon Goh at Australia & New Zealand Banking Group Ltd. Bond yields are likely to drift lower, although this will be offset by the potential Fed hike and rising euro area yields. B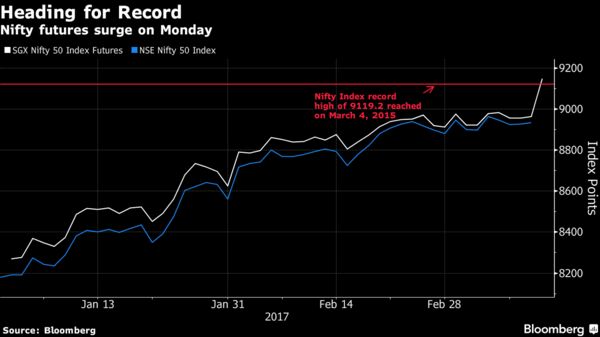 *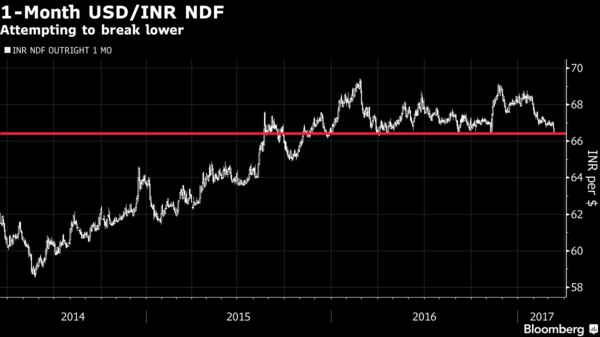 *
India ends cash rationing imposed after Modi's banknote ban
When Indian banks open on Tuesday after a holiday weekend, the era of cash rationing that followed Narendra Modi's cancellation of most of the country's currency will have come to an end. But economists and bankers expect no huge queues. The severe liquidity squeeze has already eased. India's supply of legal tender in circulation has risen to $158bn, mostly in freshly printed Rs500 and Rs2,000 notes, having plunged from $253bn to about $35bn the moment of demonetisation.
After demonetisation, as the window for depositing old notes was closing, on-demand deposits in savings and current accounts rose above $179bn from $156bn in late October. They have since dropped back to $176bn, aided by the end of cash withdrawal limits on businesses in January, as well as last month's increase of the weekly cash withdrawal limit for individuals to Rs50,000 from Rs24,000. Many bankers expect such deposits to keep subsiding in the coming months, with some funds being invested into longer-term financial instruments such as fixed deposits or mutual funds, but others being taken out in cash.
Digital payments have fallen again, both in terms of the number of transactions and the value, although the use of non-cash payments remains above the pre-demonetisation level. Even as bank deposits and digital payments fall, some insist demonetisation has had a positive impact on the economy by introducing hundreds of millions of Indians to alternatives to cash."What would have taken half a decade to achieve has been crunched into these few months," says IndusInd's Mr Sobti. "The whole cash culture has been disrupted. It's a slow process people have been used to cash for decades. Cash will never be eliminated. But the fast-forwarding has been pretty rapid." FT
*
China Bonds – China Moves to Make $9 Trillion Domestic Bond Market More Global
The tide may slowly be turning for Chinese bonds. Citigroup Inc. said Tuesday it will include onshore Chinese debt in some of its gauges, while the central bank pledged to create a "more convenient and friendly environment" for foreign investors. This follows a recent measure to allow currency hedging for bonds, a move seen as one of many efforts needed to lower barriers.
The world's third-largest debt market needs the money, with investors still smarting from the biggest slump in six years in January. Foreign ownership of Chinese onshore bonds fell to 1.3 percent last year even as outstanding notes surged 32 percent to 64 trillion yuan ($9.3 trillion). Inflows would help stabilize the yuan, and buttress the nation's dwindling foreign-exchange reserves.
Deutsche Bank estimates China's bond market will expand by 27 percent this year, making it as large as the nation's gross domestic product. Bloomberg Barclays Indices, owned by Bloomberg, included Chinese domestic bonds in some indexes on March 1. The onshore yuan has gained about 0.5 percent against the dollar this year to Friday. B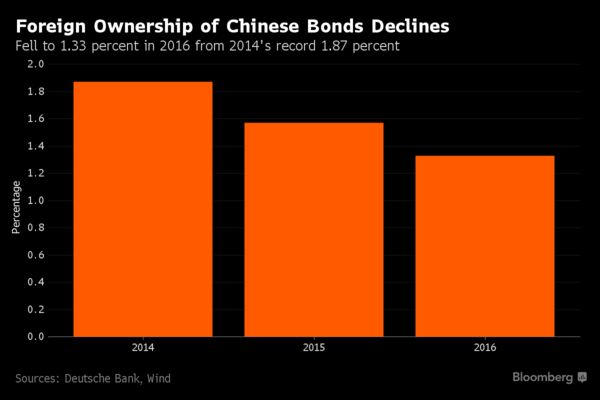 *
Emerging Markets – Hedge Funds Exit Emerging-Market Assets as Real Money Swoops In
Short-term investors are escaping emerging markets ahead of a likely U.S. interest-rate hike this week amid concern a strengthening dollar will undermine credit quality in developing nations. Meanwhile, longer-term investors have increased their exposure, pointing to equity and currency valuations that linger below their five-year averages and arguing developed nations from the U.S. to France carry greater political risks. The divergence between the two camps hasn't been this pronounced since October 2015.
The biggest dichotomy was seen in Poland's zloty, where real-money flows rose to near the highest in more than 18 months as indexed flows for hedge funds decreased to the lowest level this year. India's rupee and South Korea's won had the next largest differentials between hedge fund outflows and real money inflows relative to past trading… Traders were in closest agreement over trimming exposure to Hungary's forint. Taiwan's dollar, Peru's sol and South Africa's rand were rare exceptions where hedge funds bulked up and real money fled.
Overcrowded trades in the highest yielding assets, such as bonds from Venezuela and Mozambique, could be scaring some leveraged investors away, according to Stuart Culverhouse, the chief economist at Exotix. Previous favorites like Argentina and Ukraine no longer offer the double-digit yields many shorter-term investors seek for taking on high-risk investments, he said. Templeton Emerging Markets Group chief investment officer Stephen Dover, who oversees about $80 billion, sees "dramatically improved" valuations across Latin America and significant growth potential in Southeast Asian economies. B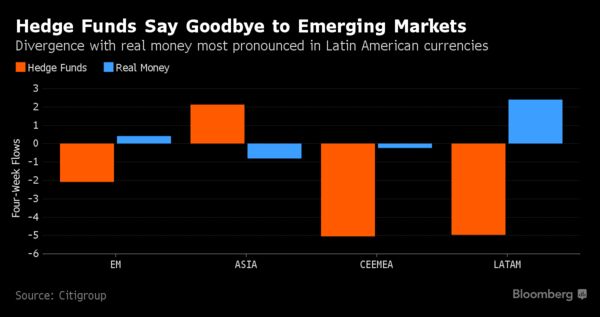 *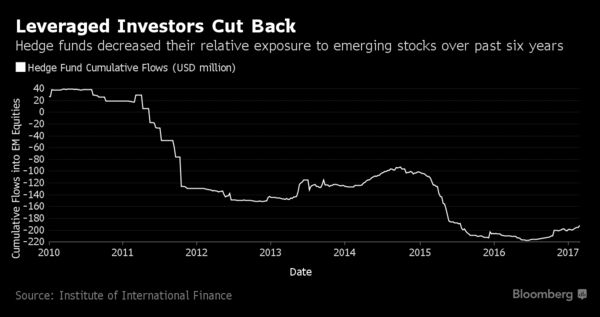 *
U.S. Stocks – Ominous sounding 'Ohama Titanic Syndrome' is forming in the stock market
A warning sign is flashing on Wall Street and highlighting growing uneasiness among investors that the stock market-rally inspired by President Donald Trump's pro-business policies may be starting to unwind. Starting Monday, the number of NYSE-traded stocks hitting 52-week lows exceeded those that hit 52-week highs for the first time since early November, indicating a pause in the run-up in equities that has resulted in a parade of all-time highs since the November election.
Prominent chart specialist Tom McClellan on Tuesday said when lows surpass highs, within seven trading days of a 1-year peak for the S&P 500, it flashes an Ohama Titanic Syndrome signal. The spooky sounding chart moniker was coined by Bill Ohama in 1965, and is viewed as a "preliminary sell signal," according to McClellan. The S&P 500 put in its most recent closing high of 2,395.96 on March 1, along with the Dow industrials which registered a high of 21,115.55 on the same day.
Some believe the Ohama Titanic Syndrome could point to equity benchmarks turning decisively lower, with a downdraft of 5% or more. That's especially since stocks have raced to a series of records that has raised questions about stock-market valuations. In combination with the perception that shares are pricey, Wall Street has been on edge amid shifting expectations for a March rate increase, with investors betting on a roughly 90% chance that the Fed will lift rates. MW
*
U.S. Stocks – The Ides of March could be a critical turning point for the stock market
As much as Julius Caesar's assassination on the Ides of March signaled an inflection point in Roman history, March 15 may also mark a watershed moment for the U.S. stock market with the Federal Reserve poised to seek closure to its loose monetary policy regime. The Fed's monetary policy decision on Wednesday will take center stage , however, the focus will be on the Fed's statement rather than the decision itself. If the central bank strikes a hawkish tone, it could trigger a selloff in the market although Pavlik expects Fed Chairwoman Janet Yellen to keep her comments positive to avoid upsetting the market.
Most analysts agree that stocks have largely priced in a rate hike of 25 basis points. But there are still bargains to be found in automobile, semiconductors, consumer finance and insurance sectors, which are cheap but benefit from a hawkish Fed, according to Bank of America Merrill Lynch.
Aside from the Fed, eight other central banks are scheduled to meet this week, including the Bank of Japan and the Bank of England, providing a quick insight into whether other countries will adjust their policies in response to the Fed. Meanwhile, President Donald Trump is expected to present his preliminary budget request to the Congress on Thursday, outlining his administration's priorities. if his budget proposal fails to meet the market's expectations, it could spark a major unwinding in positions, leading to a sharp drop in prices. MW
*
Digital Currencies – Here's what's next for bitcoin after the SEC killed the Winklevoss Bitcoin Trust
The Securities and Exchange Commission on Friday rejected a proposed rule change that would've allowed for the creation of the first bitcoin exchange-traded funda decision that has followers of the world's largest cryptocurrency wondering what happens next. In its ruling, the SEC said it was unnerved by the lack of regulation in a market that is largely based outside of the U.S., and was worried about the potential for market manipulation.
Fortunately for investors who were hoping to buy into the fund, Friday's decision won't necessarily preclude the approval of other proposed bitcoin ETFs. Two other companies are vying to become the first bitcoin-focused ETF. The New York Stock Exchange filed a proposed rule change with the SEC on Jan. 25 to allow the Grayscale Bitcoin Trust to trade on its ETF exchange, NYSE Arca. The agency now has until Sept. 22 to issue its ruling. NYSE Arca filed another rule-change proposal to list shares of the SolidX Bitcoin Trust, another product vying to be the first bitcoin ETF. Both the Grayscale and SolidX proposals would peg the price to the TradeBlock bitcoin index.
Grayscale's proposal is widely viewed as the favorite within the bitcoin community, largely because shares of its trust already trade over-the-counter, often at a premium to bitcoin's net-asset value. MW
There is much more to this report! McAlinden Research Partners offers Hedge Connection members weekly access to the Daily Intelligence Briefing research for free – click here to view. (You must be logged in first). Not a member? Join today.
McAlinden Research Partners is currently offering a complimentary full month subscription of the DIB. Activate yours today – http://www.mcalindenresearchpartners.com/hc-trial.html