We bring you our Daily Intelligence Briefing courtesy of McAlinden Research Partners. The report is provided to Hedge Connection members for free. Below is snapshot, login to view the full report. Not a member? Join today.
McAlinden Research Partners is currently offering a complimentary full month subscription of the DIB. Activate yours today – http://www.mcalindenresearchpartners.com/hc-trial.html
MRP

MCALINDEN RESEARCH PARTNERS

|

DIBS
Daily Intelligence Briefing – March 20, 2017
Featured Topic: BRIC and Other Emerging Markets Experience Tailwinds:
Bonds – Surge of foreign buying builds case for China bond index inclusion

Bonds – Russia on Cusp of Exiting Junk as S&P Outlook Goes Positive

Bonds – Commercial Bank of Qatar considers international bond issue

Bonds – Qatari and Omani lenders benefit the most from easing funding pressures

Bonds – 'Outlier' S&P may upgrade Indonesia, triggering fund flows

Stocks – Indonesia Stocks Rally to Record as Foreign Investors Buy

Stocks – Modi's Magic Is Casting a Spell on Indian Stocks

FX – Rupee's Surge May Push Indian Central Bank to Use Rare Cash Tool

FX – Rising U.S. Rates Could Mean Hard Fall for Some Currencies
Meanwhile, in the REAL ESTATE section: Millennials on the march in many US housing markets
THEME RELEVANCE: This reinforces Joe McAlinden's long held view that millennials will soon enter the U.S. housing market in droves, setting the stage for a multi-year boom in new home activity, which will lift home builders and producers of everything that goes into homes. There has been a huge buildup in pent-up demand for housing that is finally beginning to materialize as employment conditions continue to improve for the millennial generation. LONG U.S. HOUSING remains one of MRP's top themes.
---
Other Highlights:
MRP Blog: Joe Mac's Blog: U.S. "Real" Rates Plunge: DOLLAR BEARISH
---
About the DIBs: MRP focuses on identifying transformational change in the global economy and offering an investment thesis whenever an opportunity arises that has not yet been recognized by the market. The DIBs are MRP's compilation of articles and data from multiple sources on subjects reflecting disruptive change that have potential investment implications for an industry or group of securities. We share these with our clients who may already have or may be considering exposure in the industries affected. The subjects change daily and constitute an excellent update on featured topics. Every day, the DIBs also include links to MRP's MARKET VIEWPOINT, THEME TRACKER and MACRO MONITOR.
United States, Chicago Fed National Activity Index, MoM: 0.34 from prior –0.05
Germany, Producer Price Index, MoM: 3.1% from prior 2.4%
Chile, GDP Growth Rate, YoY, Q4: 0.5% from prior 1.8%
Russian Federation, Industrial Production, MoM: -2.7% from prior 2.3%
Russian Federation, PPI, MoM: 0.8% from prior 3.3%
United Arab Emirates Loan Growth, MoM: 5.4% from prior 5.7%
Euro Zone, Wage Growth, YoY, Q4: 1.6% from prior 1.5%
Euro Zone, Labour Cost Index, YoY, Q4: 1.6% from prior 1.4%
Bitcoin – Bitcoin Price Plunges on Fears of a Currency Split
Bitcoin shed about a fifth of its value over the weekend as an increasingly bitter split in the developer community behind the virtual currency threatened to literally break it in two. Bitcoin was trading at $999 on Sunday, down markedly from a high of $1,259 last week. Until the weekend, the price of bitcoin had held steady even after the U.S. SEC had rejected a proposed bitcoin ETF the week before. The ETF would have attracted new money to the currency but didn't carry fundamental implications. The fight among bitcoin developers does.
Developers, exchanges, and entrepreneurs have been fighting bitterly for nearly two years over a seemingly small technical question: the size limit of a "block," or batch of transactions that gets processed on the bitcoin network. Currently, only blocks of a one-megabyte maximum can be processed. Some in the industry want to increase that size, as a result of increasing capacity on the network. This sounds like a relatively small and technical matter, but it has resulted in a protracted and antagonistic debate about bitcoin's future. One group has coalesced around a version of bitcoin called Bitcoin Unlimited, which doesn't put any limit on block sizes. Another group, backing what is called Bitcoin Core, is defending the status quo.
Lately, though, the Bitcoin Unlimited camp has threatened to implement a "hard fork" of bitcoin's software. It is a common concept in software — akin to Microsoft releasing a new version of Windows. In this case, though, the "unlimited" version of bitcoin wouldn't be compatible with the "core" version. In effect, that would create two versions of bitcoin. Bitcoin's underlying philosophy revolves around creating an open, unbreakable record of every transaction that can never be altered, essentially a definitive record of history. Having two definitive records of history, however, would create uncertainty and raise questions about liquidity. Despite this, the exchangesand the price of bitcoin itself — are preparing for a world that includes two versions of bitcoin. WSJ
Bonds – Surge of foreign buying builds case for China bond index inclusion
Foreign investment capital has surged into Chinese domestic bonds over the past year, intensifying pressure for the inclusion of China's $9.3tn bond market in dominant market indices that direct some of the world's biggest fund flows. Inflows from foreign institutions rose 53 per cent to Rmb732bn ($155bn) at the end of February this year. "Global and emerging markets investors are likely to have to build up to a five to 10 per cent holding in Chinese domestic bond markets over the next three to five years," said Miranda Carr at Haitong Securities UK. Foreign investors currently account for just 2 per cent of holdings in domestic Chinese bonds. "We are likely to see up to $250bn committed to China's domestic bond market by foreign investors over the next three to five years," she added.
Fund managers measure their performance against a variety of different indices but only a few widely-followed indices dominate the market to the extent that should Chinese bonds be given a weighting in them, funds would need to boost their holdings to reflect that weighting. Thus, a decision this month by Citigroup to include Chinese domestic bonds in three sub-indices may boost interest but will not compel buying activity. So far, Citigroup has withheld approval for China's entry into its dominant World Government Bond Index (WGBI), which had a market value of $19.9tn at the end of February.
The JPMorgan GBI-EM index, a benchmark for emerging markets bonds, has given no indication it intends to include China in the index. It sees technical and market issues that have yet to be cleared up, though its monthly review gives it the flexibility to move swiftly if its concerns are resolved. Given that China is expected to take a 10 per cent weighting in the JPMorgan GBI-EM index, which is tracked by about $210bn in funds, any China inclusion would trigger roughly $20bn in inflows, industry analysts said.
Index considerations aside, Mr Tang said an existing powerful draw for investors was the 3.4 per cent yield on Chinese government bonds. By contrast, the value of negative yielding sovereign and corporate bonds around the world climbed to $10.5tn on March 7, up from $9.8tn on February 21. FT
*
Bonds – Russia on Cusp of Exiting Junk as S&P Outlook Goes Positive
The outlook on Russia's junk credit ranking was raised by S&P Global Ratings as the economy shifts into higher gear and the government keeps the budget deficit in check. S&P lifted the outlook to positive from stable, leaving its foreign-currency rating one step short of investment grade at BB+, on par with Indonesia and Bulgaria, according to a statement on Friday. Moody's ranks the country at the same level, while Fitch Ratings has it one step above junk.
S&P cited stabilizing growth in gross domestic product for its latest decision. "The positive outlook indicates that we may raise our ratings if the Russian economy continues to adapt to the relatively low oil-price environment while maintaining its strong net external asset position and comparatively low net general government debt burden."
The move puts Russia on the verge of regaining the investment status it lost two years ago when the collapse in oil prices, compounded by international sanctions over the war in Ukraine, pushed the world's biggest energy exporter into recession. Helped by stabilizing oil prices, it's since adjusted by allowing the ruble to trade freely and keeping fiscal and monetary policy tight, reining in inflation from a 13-year high in 2015 to near the central bank's 4 percent target. The improving sentiment in Russia is playing out in the market, with the ruble gaining about 7 percent against the dollar in 2017, the best performance in developing Europe. B
Bonds – Commercial Bank of Qatar considers international bond issue
Commercial Bank of Qatar (CBQ) is in talks with banks about a potential international bond issue that will most likely be denominated in U.S. dollars, sources familiar with the matter said on Sunday. If the deal goes ahead, CBQ would join a growing number of banks from the region tapping the international debt markets this year with the aim of improving capital reserves and boosting capital ratios to counter the impact of lower international oil prices. CBQ, the Gulf Arab state's third-largest bank by assets, is looking at a benchmark-sized transaction, which conventionally means upwards of $500 million, the sources said. A U.S. dollar-denominated bond issue is considered the most likely option, but the bank is also looking at issuing in Chinese renminbi, one of the sources said. R
Bonds – Qatari and Omani lenders benefit the most from easing funding pressures
Qatari and Omani lenders benefit the most from easing funding pressures due to stabilising oil prices, large international sovereign debt issuances and lower credit growth, according to global credit rating agency Moody's. Both banking systems face funding pressure as reflected by loan-to-deposit ratios of 103% and 104%, respectively, at June 2016. However, Qatar has higher financial reserves than Oman, providing it with a higher capacity to support local liquidity if necessary. High government dependence on oil, heavy reliance on government deposits (26% of deposits at year-end 2016) and solid credit growth levels (12.1% credit growth in 2016) would continue to pressure Qatar's banks' funding positions, Moody's said.
The low indebtedness of most GCC countries provides some room for the governments to raise international financing. General government debt accounted in December 2016 for 13.4% of the GDP in Saudi Arabia, 19.3% in Kuwait 4, 30.5% in Oman, 21.7% in the UAE, 53.6% in Qatar and 73.9% in Bahrain, it said, adding the GCC governments increased their international US dollar debt issuances in 2016 to a total of $38.9bn compared to $2.1bn the previous year.
The surge in sovereign issuance in 2016 has been met with very strong investor demand. Search for yield and the gradual recovery in oil prices from the second quarter of 2016 have supported the GCC sovereign bond issuance, which was reflected in large order books and tightening yields following the deal closures. GulfTimes
Bonds – 'Outlier' S&P may upgrade Indonesia, triggering fund flows
Progress on fiscal reforms may prompt S&P to return Indonesia's credit rating to investment grade this year a vote of confidence expected to trigger capital inflows to Southeast Asia's largest economy, economists and fund managers told CNBC. S&P remains the only major ratings agency to classify Indonesia's sovereign debt one notch below investment grade, also known as "junk." Rivals Fitch and Moody's both rate Indonesia as investment grade and recently revised the outlook to positive from stable.
Indonesia failed to win an S&P upgrade last year because of rising non-performing loans. Markets have applauded Indonesian President Joko Widodo's signature tax amnesty program and infrastructure spending pledges, which have helped offset some of the damage done by the commodities collapse and the post-U.S. election jump in the U.S. dollar and treasury yields.
"We expect S&P to upgrade Indonesia's rating to investment grade sometime in the near term," said Neeraj Seth, head of Asian credit at BlackRock, which oversees $5.1 trillion. "Indonesia has a strong track record of fiscal discipline and the government has demonstrated a strong commitment towards reforms through fuel subsidy rationalization and multiple policy packages since September 2015." CNBC
Stocks – Indonesia Stocks Rally to Record as Foreign Investors Buy
Indonesian stocks climbed to a record, benefiting from foreign inflows that were unleashed by the Federal Reserve's dovish tone this week. The Jakarta Composite Index rose to a record 5,540.43. Yields on benchmark government bonds fell to lowest level in nearly five months. Foreigners funneled $138 million into the local stock market on Thursday, the biggest one-day inflow since October.
Shares in the Jakarta gauge are trading at about 24 times current year earnings, smack in line with its average valuation in the last three years. Thanks to earnings growth that analysts see averaging more than 20 percent through 2018, the index's forward price-earnings ratio is 15.9, making it cheaper than the S&P 500 Index on that basis.
Household consumption is expected to keep rising while loan growth is predicted to improve this year, in line with increased economic activity and looser monetary policy settings, Bank Indonesia said in a statement on Thursday. The central bank cut interest rates six times in 2016. B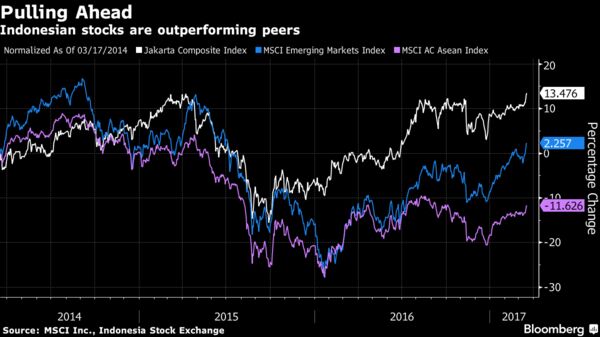 *
Stocks – Modi's Magic Is Casting a Spell on Indian Stocks
Prime Minister Narendra Modi's election-win magic looks to be casting a spell on the Indian stock market. The S&P BSE Sensex index will climb to 32,000 by the end of December, up more than 8 percent from its close of 29,518.74 on Monday, according to traders and investors surveyed by Bloomberg on March 14, three days after Modi's landslide victory in state elections. Financial companies and drugmakers are among their top picks on optimism the result will open the gates to foreign cash.
"India will get $15-$20 billion a year from emerging-market allocations, which will partly get a boost due to political stability after Modi's win in state elections," said Samir Arora, of hedge-fund firm Helios Capital Management Pte. The optimism comes even after the post-election rally made Indian stocks the most expensive in Asia, as their one-year forward price-to-earnings ratio climbed to the highest since 2010.
Foreigners began 2017 looking for reasons to sell India, but capitulation has begun, and the election result would further accelerate that trend, wrote Christopher Wood, CLSA Ltd.'s Hong Kong-based equity strategist. Renewed weakness in oil prices may act as another positive for India in the emerging-market context, Wood added. B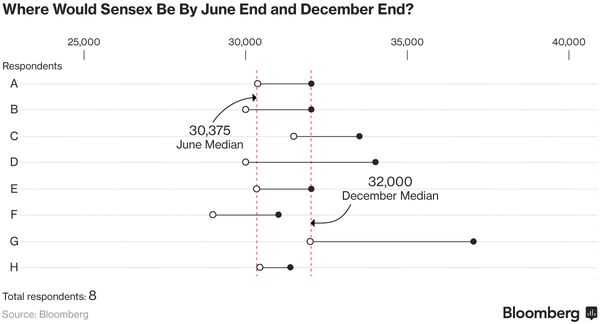 *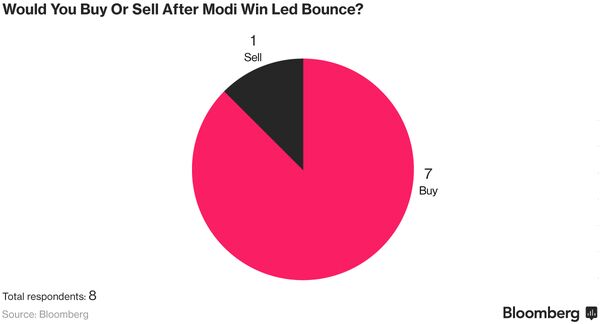 *
FX – Rupee's Surge May Push Indian Central Bank to Use Rare Cash Tool
The rupee's surge and a banking system awash with funds will shift focus to a little-used tool in the Indian central bank's arsenal before next month's policy review. The Reserve Bank of India may consider raising the cash reserve ratio for the first time since 2010 if deposits accumulated due to November's cash ban don't flee over the coming months, economists say. Banks are holding a near-record 5 trillion rupees ($76 billion) of surplus cash, according to Bloomberg's India Banking Liquidity Index, limiting the RBI's ability to buy dollars and curb rupee gains to avoid further increasing liquidity.
This complicates matters for Governor Urjit Patel, who shifted the monetary stance to neutral last month from accommodative as inflation accelerates. A stronger rupee would help rein in price pressures but runaway gains could slow a recent export recovery by making shipments less competitive.
The CRR is the amount of deposits banks need to maintain as reserves. It was last raised in 2010 when India saw record foreign inflows into its stock market. This time the influx is homegrown: bank deposits have surged since November's clampdown on cash. Some of the money could be converted back into cash since the RBI removed withdrawal restrictions last week, but the country's largest bank estimates that as much as half of it could stay back.
While the RBI has been using a slew of instruments including reverse repo operations and cash management bills to sterilize the inflows, these come at a cost. The CRR, on the other hand, is interest-free. B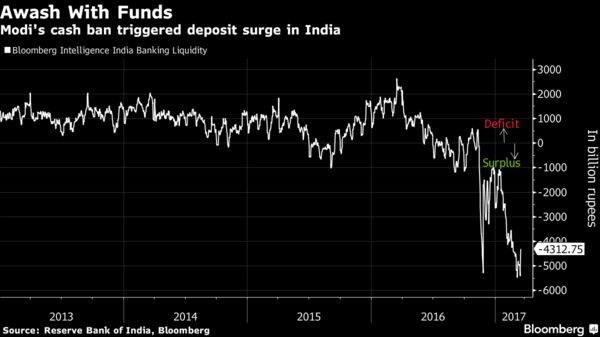 *
FX – Rising U.S. Rates Could Mean Hard Fall for Some Currencies
Federal Reserve officials this week signaled that the end is near for a long-distance relationship that has lasted 16 years. The link in question is the difference between Australian and U.S. interest rates, which has been positive since 2001. The Fed projected two more rate increases in 2017: If it carries through, the upper end of the target range for U.S. rates will be 1.5% by the year's endwhere Australia's benchmark rate is now.
The closing U.S.-Australian rate gap is a standout example of a trend currently looming over foreign-exchange markets: the narrowing difference between U.S. and global interest rates. While the Fed is now in tightening mode, many central banks that have long had higher benchmark ratessuch as those in Australia, India and Brazilare on hold or cutting. Rising U.S. rates could trigger a reversal of capital flows, which could prove destabilizing for countries that had benefited from the search for yield during the years when U.S. rates have been ultralow. The Australian dollar, for example, could tumble by around 15% against the greenback if the country's central bank keeps rates on hold, according to London-based Capital Economics.
Even as the Fed pushes ahead with rate increases, the currencies of some countries could remain attractive as their interest rates remain much higher, investors and strategists say. They recommend owning high-yield darlings like the Indonesian rupiah and Indian rupee, where benchmark rates are 4.75% and 6.25%, respectively, providing a substantial buffer against rising U.S. rates. WSJ
*
There is much more to this report! McAlinden Research Partners offers Hedge Connection members weekly access to the Daily Intelligence Briefing research for free – click here to view. (You must be logged in first). Not a member? Join today.
McAlinden Research Partners is currently offering a complimentary full month subscription of the DIB. Activate yours today – http://www.mcalindenresearchpartners.com/hc-trial.html