We bring you our Daily Intelligence Briefing courtesy of McAlinden Research Partners. The report is provided to Hedge Connection members for free. Below is snapshot, login to view the full report. Not a member? Join today.
McAlinden Research Partners is currently offering a complimentary full month subscription of the DIB. Activate yours today – http://www.mcalindenresearchpartners.com/hc-trial.html
MRP

MCALINDEN RESEARCH PARTNERS

|

DIBS
Daily Intelligence Briefing – May 15, 2017
FEATURED TOPIC: TRADE DEALS:
The US and China just inked a new trade deal that would open up the Chinese market to American companies and agencies. More importantly, the import/export deals on beef, poultry, natural gas, agriculture, financial services and biotechnology will help to reduce America's massive trade deficit with China, according to U.S. Commerce Secretary Wilbur Ross.
Reviews have been mixed: Secretary Ross called the agreement a herculean accomplishment"; The Chairman of the US Chamber of Commerce in Shanghai said "not a breakthrough"; An analyst at BNEF acknowledged it would help raise market sentiment "but not change anything materially in the foreseeable future"; Chinese Vice Finance Minister, Zhu Guangyao, deemed it a "win-win".
The news is positive for some and not so great for others. American beef companies, credit card firms and LNG exporters are potential winners. Credit rating agencies and a couple of U.S. investment banks will also have access to more business, although it is not yet certain which two. U.S. poultry producers will face new competition from Chinese companies that can now export their cooked poultry to the U.S. The agreement did not address steel, aluminum or auto parts, which have been considered major issues. Some American manufacturers, particularly in the energy-hungry chemicals industry, fear China might buy so much American natural gas that the purchases would push up American natural gas prices.
Here are the 10 key areas of agreement, and a collection of relevant articles (these stories are summarized in the ECONOMICS & TRADE section):
Trade – US and China reach deal expanding beef trade and increasing access to financial services

Trade – In sharp reversal, Sino-American trade relations improve

Trade – China Trade Plan Is Big Deal for Natural Gas

Trade – US Strikes China Trade Deals but Leaves Major Issues Untouched

Trade – American banks may face new competition from Chinese firms under new US-China trade deals

Trade – U.S.-China trade deal serves up potential corporate winners

Trade – Mexico warns US of alternatives on trade, points to China

Trade – New Zealand Ratifies Pacific Trade Deal after US Withdrawal
---
MAJOR ALERT, in the POLITICS & POLICY Section: Ransomware bug could come back with a vengeance today. Here's what you need to know:
The attacks affect only computers running Microsoft Corp.'s Windows. The virus contains two parts. One is the ransomware, which locks the computer files and displays a message saying that the files will be locked and eventually destroyed unless the user sends payment over the internet to the hacker. The other part is known as the "spreader." Once the virus makes its way onto one computerperhaps when a user opens an infected email attachmentthe spreader transmits itself to other computers on the network.
Theme Relevance: We are re-affirming MRP's recommendation to be LONG CYBERSECURITY as the sector will likely benefit from increased investment by governments, companies, and individuals following an attack of such size and scale.
---
OTHER STORIES HIGHLIGHTED IN TODAY'S DIBS:
MRP BLOG: Joe Mac's Blog: U.S. Inflation Intermission
---
About the DIBs: MRP focuses on identifying transformational change in the global economy and offering an investment thesis whenever an opportunity arises that has not yet been recognized by the market. The DIBs are MRP's compilation of articles and data from multiple sources on subjects reflecting disruptive change that have potential investment implications for an industry or group of securities. We share these with our clients who may already have or may be considering exposure in the industries affected.
United States, Baker-Hughes Rig Count – U.S., WoW, MAY/12: 885 from prior 877
United States, Business Inventories, MoM, MAR: 0.2% from prior 0.3%
India, Inflation Rate, YoY, APR: 2.99% from prior 3.89%
India, Manufacturing Production, YoY, MAR: 1.2% from prior 1.4%
India, Industrial Production, YoY, MAR: 2.7% from prior 1.9%
Mexico, Industrial Production, YoY, MAR: 3.4% from prior -1.9%
Russian Federation, Balance of Trade, $12.6B from prior $10.17B
Columbia, Industrial Production, YoY, 4.8% from prior -3.2%
Colombia, Retail Sales, YoY, MAR: 1.9% from prior -7.2%
Bonds – China yield curve inverted as regulators target leverage risk
The yield on Chinese five-year government bonds hit its highest since 2014 on Friday, as tight liquidity and a regulatory crackdown on leveraged investment caused a rarely seen inversion of the yield curve. Bond yields, which move inversely to price, have been on the rise since last October as the People's Bank of China moves to discourage the use of borrowed money for bond investment. The bond shakeout has accelerated since March, as regulators issued a series of directives to curb financial risk.
Lending ties among financial institutions have grown increasingly complex in China, with lenders issuing certificates of deposit to some banks to buy high-yielding wealth management products from others. Despite rising bond yields, analysts expect credit to the real economy to keep growing strongly, as authorities are committed to meeting the government's target for gross domestic product. Rather than cutting off corporate and household debt, regulators are mainly focused on curtailing leverage within the financial system. Market participants say uncertainty about the impact of regulation has sparked excessive caution among some banks. In addition to tighter regulation, the central bank has also grown stingier about supplying the banking system with fresh funds. FT
*
Stocks – Move Over U.S., the Stampede Is On for European Equities
Europe has become a magnet for stock funds, attracting a record weekly inflow. Investors poured a net $6.1 billion into European equity funds in the week to May 10. The money flowed as centrist Emmanuel Macron defeated euro-skeptic Le Pen in Sunday's run-off. U.S. equities had $2.4 billion of outflows as the world's biggest economy lost more of its relative attraction over Europe after the Trump rally stalled.
Having pulled more than $100 billion from European equity funds last year, investors are returning as the economic cycle gathers speed later than in the U.S. and companies are boosting earnings faster. A long-awaited profit rebound by European companies is helping. The percentage of positive earnings surprises tracked by Goldman Sachs Group Inc. this year is 54 percent. That's the highest level for the region since 2009. B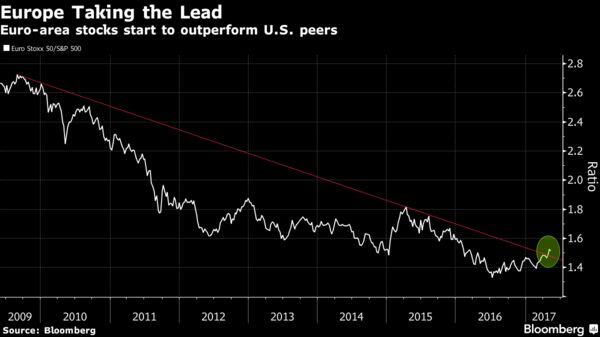 *
Trade – US and China reach deal expanding beef trade and increasing access to financial services
The U.S. and China have agreed that China will allow US imports of beef no later than 16 July. By that same deadline, the U.S. said it would issue a proposed rule to allow Chinese cooked poultry to enter US markets. Beijing will also allow US-owned card payment services to begin the licensing process in a sector where China's UnionPay system has had a near monopoly. Foreign-owned firms in China will also be able to provide credit rating services. The U.S. also signalled that it was eager to export more liquefied natural gas (LNG), saying China could negotiate any type of contract, including long-term contracts, with US suppliers.
Ross said there should be an impact on China's trade surplus with the United States by the end of the year. It is unclear exactly how much these new deals will increase trade between the two countries. Independent
Trade – In sharp reversal, Sino-American trade relations improve
It was only months ago that the world's two-largest economies seemed headed toward an open trade war. But, the two sides have been finding common ground on North Korea, and now they are deepening economic ties as well. The 10-point initial agreement is part of a 100-day plan to resolve trade imbalances reached by Presidents Donald Trump and Xi Jinping during their summit early last month.
Eliminating trade imbalances was one of Trump's premier promises on the 2016 campaign trail. He also needed a diplomatic victory to distract from the cloud surrounding his abrupt dismissal of his FBI chief, James Comey.
For Xi, a stable bilateral relationship is the top foreign policy priority heading into this fall's twice-a-decade Communist Party congress. Not only did he achieve visible progress on that front, he also brought Washington on board his Belt and Road Initiative. Asia Nikkei
Trade – China Trade Plan Is Big Deal for Natural Gas
In principle, large-scale U.S. gas exports to China could put downward pressure on Asian gas markets for yearsposing major problems for companies like Shell with large, high-cost operations in Australiaand help defuse Sino-U.S. political tensions over trade. China has long wanted to boost the role of cleaner burning natural gas in its energy mix, but high prices have stymied that goal. Piped supplies from Central Asia cost around $9 per million British thermal unit (mmBtu) once they arrive at the big eastern cities. The cost of liquefied natural gas imports average about a dollar less.
The explosion of U.S. fracking activity has driven American gas prices down to around $3 per mmBtua situation that is widely expected to persist given enormous reserves. At that price, U.S. gas is probably competitive to Asia. Data from Cheniere Energy indicates its margin at current Chinese import prices is around $2 to $3 per mmBtu.
High-cost Australian suppliers who in some cases require prices at $10 per mmBtu or higher and are counting on Chinese demand to push prices up should view this latest development with deep trepidation. WSJ
Trade – US Strikes China Trade Deals but Leaves Major Issues Untouched
The set of trade deals between the U.S. and China covers areas like electronic payment services, beef and poultry, compromising on some Obama administration stances, but leaves untouched bigger issues that could still complicate relations between the two major trading partners.
Many of these deals actually consisted of adding new deadlines or details to agreements reached during the Obama administration. Trade officials in both countries had previously agreed that China would resume accepting American beef exports, which China has limited for more than a decade over worries about mad cow disease, but this week's beef pact set a deadline of July 16.
The trade agreements did not address areas such as steel, aluminum or auto parts areas where Chinese exports have a deep, industrywide impact. Mr. Trump criticized China's trade practices both before and after the election, saying China was benefiting at the expense of American workers. NYT
Trade – American banks may face new competition from Chinese firms under new US-China trade deals
The new U.S. trade deals with China include a promise to allow Chinese banks greater access in America, Commerce Secretary Wilbur Ross said on Friday. Ross said the agreements with Beijing also lay the groundwork for treating Chinese banks the same way as the U.S. treats other foreign banks.
"We've agreed to treat their financial institutions, their banks, the same way as we evaluate other foreign banks when they want to come and open up activities in the U.S.," Ross said on "Squawk Box." "Clearly China, whose banks are among the largest in the whole world, wants access to the U.S. banking market."
But he said there's no specific date on when it may happen, and it would be dependent on China complying with U.S. standards. "As long as they can comply with the normal rules, they will get access." CNBC
Trade – U.S.-China trade deal serves up potential corporate winners
American beef companies, credit card firms and liquefied natural gas exporters emerged as potential corporate winners on Friday in the wake of trade agreements reached between the U.S. and China. Credit rating agencies and two qualified U.S. financial institutions could benefit as well. But the trade deals contained mixed news for other American food producers. China will allow U.S. imports of beef no later than July 16, while the U.S. will issue a proposed rule to allow Chinese cooked poultry to enter U.S. markets. Here's the list of corporate winners… R
Trade – Mexico warns US of alternatives on trade, points to China
Mexico sent a stark message to U.S. President Donald Trump on Thursday, saying an upcoming visit by Mexican officials to China showed Latin America's second largest economy had other places to export to if he tore up the NAFTA trade deal. NAFTA underpins Mexico's economy, prompting the government to try and diversify away from the U.S., which takes 80 percent of its exports.
"We will use (the China visit) geopolitically as strategic leverage" said Mexican Economy Minister Ildefonso Guajardo. "It sends the signal that we have many alternatives." Guajardo noted Mexico sends China a fraction of its total exports, and that the two major manufacturing nations tend to compete rather than complement one another on trade.
Guajardo said he was also working on a "radical broadening" of preferred tariffs with Brazil and Argentina to lower the cost of importing grains from the South American nations while giving Mexico better access to their manufacturing markets. He said it might be possible to shrink the U.S. deficit with Mexico if more North American products were made with materials from within the region without hurting competitiveness. CNBC
Trade – New Zealand Ratifies Pacific Trade Deal After US Withdrawal
New Zealand on Thursday became the second nation after Japan to ratify a Pacific trade deal that will need changes to proceed after the U.S. pulled out following President Donald Trump taking office. In its current form, the 12-nation Trans-Pacific Partnership requires U.S. participation before it can go into effect. That means the remaining countries would need to change the rules for any deal to go ahead, and it would be significantly smaller without the involvement of the world's largest economy.
New Zealand is a strong proponent of free trade. The country relies on exports of dairy products and other farm commodities to help power its economy. MNet
There is much more to this report! McAlinden Research Partners offers Hedge Connection members weekly access to the Daily Intelligence Briefing research for free – click here to view. (You must be logged in first). Not a member? Join today.
McAlinden Research Partners is currently offering a complimentary full month subscription of the DIB. Activate yours today – http://www.mcalindenresearchpartners.com/hc-trial.html