We bring you our Daily Intelligence Briefing courtesy of McAlinden Research Partners. The report is provided to Hedge Connection members for free. Below is snapshot, login to view the full report. Not a member? Join today.
McAlinden Research Partners is currently offering a complimentary full month subscription of the DIB. Activate yours today – http://www.mcalindenresearchpartners.com/hc-trial.html
MRP

MCALINDEN RESEARCH PARTNERS

|

DIBS
Daily Intelligence Briefing – June 5, 2017
FEATURED TOPIC: COAL:
The secular shift away from coal is about to accelerate with two previously staunch supporters now heading towards a greener future. India, which had been on a building spree of coal-fired power plants with the intention of tripling production to 1.5 billion tons by 2020, has suddenly reversed course driven in part by a steep drop in the cost of solar power. The country is now canceling many of the coal plant buildouts that were planned and Prime Minister Narendra Modi has committed India to achieving 40 percent of its electricity capacity from nonfossil-fuel sources by 2030.
A similar dramatic reversal is happening in South Korea, which gets 70 percent of its electricity from thermal coal and nuclear reactors, and subsidizes both sectors. The new government of President Moon Jae-in is now looking to shift away from coal and nuclear towards natural gas and renewables. Such a shift would have a big impact on energy commodities, as South Korea is the fourth biggest coal importer and the second biggest LNG buyer. If implemented, South Korea's LNG imports could jump by more than 50 percent by 2030, while coal shipments could peak as early as next year.
Meanwhile, that downtrend for coal has been well underway in the United States. Last year, the U.S. electric power sector consumed the lowest amount of coal in 33 years thanks to competition from natural gas and renewables. Coal consumption is down 35% since the peak in 2008, when coal production reached its highest level.
But there may some relief ahead, at least in the short term. President Trump's announcement to pull the United States out of the Paris Climate Agreement, along with his recent legislation to end a key Obama-era coal mining rule signal a more favorable environment for coal producers over the next couple of years. Meanwhile, rising natural gas prices may compel some power producers to edge back towards coal. Just those two factors together — better regulatory environment and decreasing cost competition from natural gas prices could provide a boost to the industry. H owever, any such reprieve is likely to be temporary, as the existential threat from renewables and natural gas persists.
IN THE MEANTIME, here are the latest articles on the subject (these stories are summarized in the COMMODITIES Section)
Coal – Coal bows to natural gas, as consumption falls to lowest since 1984

Coal – India, Once a Coal Goliath, Is Fast Turning Green

Coal – South Korea plans energy U-turn away from coal, nuclear

Coal – U.S. Rail Coal Shipments To Rise Amid Favorable Business Environment
FURTHERMORE, here are some companies with exposure to the industry: AHGP; ARCH; ARLP; BTU; CLD; HCC; HNRG; NRP; TECK; WLB; TECK
---
OTHER STORIES HIGHLIGHTED IN TODAY'S DIBS:
MRP Reports:
Current Themes:
Long Aerospace and Defense

Long Homebuilders

Long Gold

Long Value over Growth

Long U.S. Energy

Long Oil Services and Equipment

Long CAPEX

Long Steel

Long Emerging Markets

Long Treasury Inflation Protected Securities (TIPS) & Short Long-Dates Treasuries

Long Financials

Long Regional Banks

Long Cybersecurity

Long India

Long Gaming
---
About the DIBs: MRP focuses on identifying transformational change in the global economy and offering an investment thesis whenever an opportunity arises that has not yet been recognized by the market. The DIBs are MRP's compilation of articles and data from multiple sources on subjects reflecting disruptive change that have potential investment implications for an industry or group of securities. We share these with our clients who may already have or may be considering exposure in the industries affected. The subjects change daily and constitute an excellent update on featured topics.
United States, EIA Petroleum Status Report – Crude Oil Inventories, WoW, MAY/26:

-6.4 M barrels

from prior –

4.4 M barrels
United States, Baker-Hughes Rig Count, WoW, JUN/2: 916 from prior 908
Brazil, Industrial Production, YoY, APR: -4.5% from prior 1.4%
Euro Area, PPI, YoY, APR: 1.3% from prior 3.9%
Columbia, Exports, YoY, APR: 6.8% from prior 37.9%
Chille, Retail Sales, YoY, APR: -0.4% from prior 4.9%
Cryptocurrencies – Russia wants to build a better bitcoin
The Central Bank of Russia has plans to introduce a national cryptocurrency of its design, according to Deputy Governor Olga Skorobogatova. Skorobogatova said testing of a national virtual currency has already taken place on the Masterchain and Hyperledger platforms. She added that the details of the project could be revealed in two to three years. While Russian officials have been divided on cryptocurrencies, the technology has been backed by the financial sector, most notably by Herman Gref the head of Russia's largest lender Sberbank. Cryptocurrencies could be recognized in Russia by 2018, said Deputy Finance Minister Aleksey Moiseev in April. RT
Brazil Economy – Brazil emerges from recession as GDP grows 1%
The GDP increase came after two consecutive years of negative growth, during which the Brazilian economy shrank by almost 8%. A record harvest of soybeans, one of Brazil's main exports, gave the economy a boost. But analysts warned Brazil could go back into recession in the near future. A record 14 million people are unemployed according to official figures released earlier this week. Uncertainty over the future of President Michel Temer has also rattled the markets. BBC
US Economy – Manufacturing's Share of the Labor Market Just Hit Its Lowest Level Ever
Manufacturing's share of all U.S. employment fell to 8.48 percent in May for the lowest in records dating to 1940, Labor Department figures showed Friday. A fairly ugly May employment report was even worse news for manufacturers, who bled 1,000 jobs last month for the first decline since October. Factories should enjoy steady domestic demand and improving global growth while struggling to hire as fast as other industries. B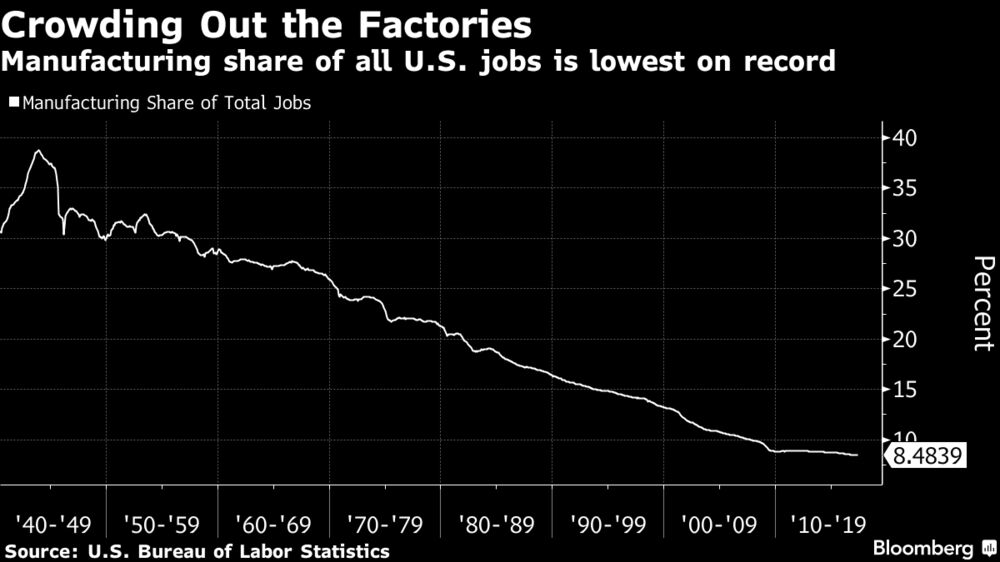 *
Puerto Rico Economy – Puerto Rico's Exodus Is Speeding the Island's Economic Collapse
The population drop is astonishing. The island has lost 2 percent of its people in each of the past three years. A comparable departure from the 50 states would mean 18 million people moving out since 2013. About 400,000 fewer Puerto Ricans live on an island of 3.4 million today compared with a decade ago, when its economy began contracting. The departures have trapped Puerto Rico in a downward spiral. A grinding recession, with joblessness at 11.5 percent, and $74 billion mountain of debt that pushed the island to insolvency has made collecting taxes key to an economic rebound. Puerto Rico's bond debt has grown 87 percent since 2006. B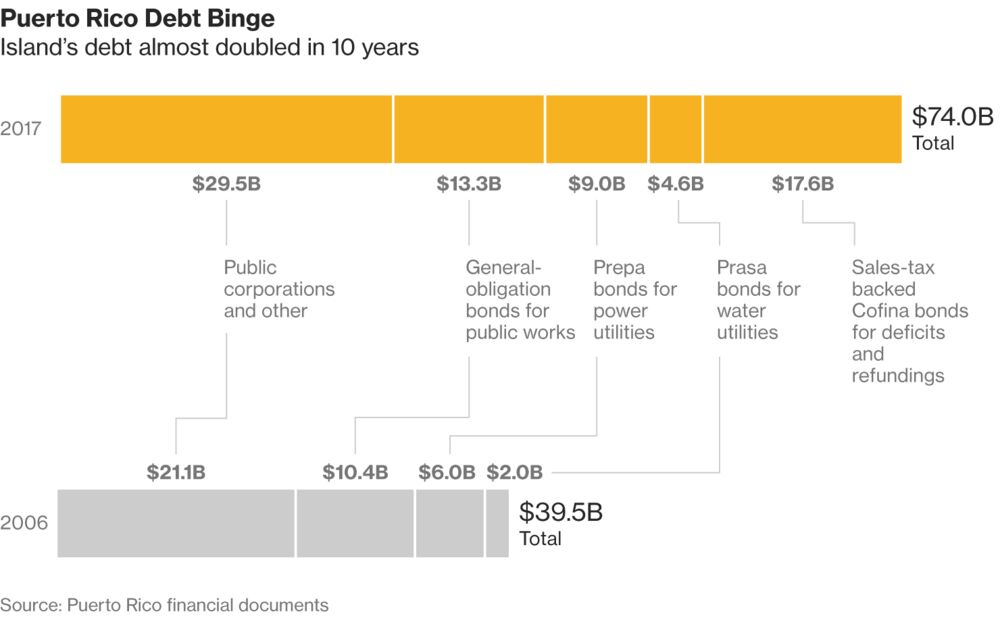 There is much more to this report! McAlinden Research Partners offers Hedge Connection members weekly access to the Daily Intelligence Briefing research for free – click here to view. (You must be logged in first). Not a member? Join today.
McAlinden Research Partners is currently offering a complimentary full month subscription of the DIB. Activate yours today – http://www.mcalindenresearchpartners.com/hc-trial.html