We bring you our Daily Intelligence Briefing courtesy of McAlinden Research Partners. The report is provided to Hedge Connection members for free. Below is snapshot, login to view the full report. Not a member? Join today.
McAlinden Research Partners is currently offering a complimentary full month subscription of the DIB. Activate yours today – http://www.mcalindenresearchpartners.com/hc-trial.html
MRP

MCALINDEN RESEARCH PARTNERS

|

DIBS
Daily Intelligence Briefing – July 10, 2017
FEATURED TOPIC: DIGITAL PAYMENTS and Playing the Rise of the Cashless Society
Physical currencies have been a cornerstone of trade since 700 BC, however, cash is increasingly being supplanted by cards, bank transfers, smartphones, and other alternatives, to pay for everyday expenses in many parts of the world. This trend away from cash is not limited to rich countries with high levels of consumer spending. It's happening in developed and developing economies alike.
Some countries – including India, South Korea and France – have started regulating the use of cash to reduce its usage, either with transaction thresholds or by eliminating certain note denominations.
In Taiwan, the government wants cash transactions to decline to below 20% within ten years.
Sweden is on the cusp of doing away with cash entirely. In 2016, just 20% of transactions were in cash. Stores can refuse to accept payment in cash, and a majority of the country's 1600 bank branches no longer keep cash in hand, have ATMs, or accept cash deposits.
In Kenya, the widespread adoption of mobile money transfer system, M-Pesa, means it is now considered a "plausible fiscal risk" by Kenya's treasury officials. Nearly half of Kenya's $60 billion GDP was transacted via M-Pesa in 2015. There are similar platforms in Uganda, Tanzania, Zimbabwe.
As macro trends of mobile and online commerce accelerate, China is taking the lead in mobile payments globally. It's two biggest players, AliPay and WeChat Pay, have 700 million monthly users combined, and processed $3 trillion in payments in 2016. That's more than half of the $5.5 trillion total mobile payments in China last year, and dwarfs the $112 billion achieved in the U.S. that same year.
The dramatic growth in digital payments and its broader impact on society is creating opportunities for segments of the payments industry. Here are some of the beneficiaries:
PROCESSORS: Companies with exposure to the whole electronic payments value chain and transaction process — from when you use your card in a shop, through to telling your bank.
SECURITY & INTEGRITY: Companies that provide identity verification to online merchants, and specialize in the security and integrity of online payments.
PAYMENT NETWORKS: Firms that run cards, money transfer networks, QR scanning codes, and mobile payment solutions.
The world is still a long way off from becoming a cashless society: MasterCard estimates that around 85 per cent of retail payments worldwide continue to be made in cash. However, the payments industry is undergoing some major disruptions driven by consumer trends, regulatory changes in some nations, and technological innovation.
HERE IN THE MEANTIME are some articles on the space (these stories are summarized in the FINANCE Section)
China – In China, A Cashless Trend Is Taking Hold With Mobile Payments

China – Ant Financial Partners With Chinese City To Build Cashless Society

India – India might be first cashless society

India – What Happened After India Went (Mostly) Cashless?

U.S. – Federal Reserve Payments Study highlights changes in consumer and business payment choice

Europe – Are we headed for a cashless future?

Sweden – Challenges Arise as Sweden is Heading Towards Cashless Society

Cost of Cash – Are Cash Alternatives Moving Us Towards a Cashless Society?

World – Cash Is Falling Out of Fashion–Will It Disappear Forever?

Taiwan – Inside the plan to make Taiwan cashless

Payments Race – Worldpay emerges as a winner in the war on cash

Payment Processors – U.S. card firm Vantiv goes global with $10 billion Worldpay buy
SOME COMPANIES IN THE E-PAYMENTS SPACE:
CARD NETWORKS: Mastercard (MA); Visa (V); American Express (AXP);
SOLUTIONS: Paypal (PYPL); FleetCor (FLT); First Data Corp (FDC); QIWI (QIWI); Blackhawk Network (HAWK); Green Dot (GDOT); WEX Inc. (WEX)
PROCESSORS: Vantiv (VNTV); Global Payments (GPN); Fiserv (FISV); Total System Services (TSS); Square (SQ); Cass Information Systems (CASS); Evertec (EVTC)
INFRASTRUCTURE & SOFTWARE: ACI Worldwide (ACIW); Verifone (PAY)
---
OTHER STORIES HIGHLIGHTED IN TODAY'S DIBS:
JOE MAC'S MARKET VIEWPOINT
CURRENT MRP THEMES
| | | |
| --- | --- | --- |
| CAPEX (L) | Cybersecurity (L) | Defense (L) |
| Emerging Markets (L) | France (L) | Gaming (L) |
| Gold (L) | Homebuilders (L) | India (L) |
| Oil Services & Equipment (L) | Oil & U.S. Energy (L) | Steel (L) |
| TIPS (L) | Long Dated Treasuries (S) | U.S. Financials (L) |
| U.S. Regional Banks (L) | Value over Growth (L) | |
---
About the DIBs: MRP focuses on identifying transformational change in the global economy and offering an investment thesis whenever an opportunity arises that has not yet been recognized by the market. The DIBs are MRP's compilation of articles and data from multiple sources on subjects reflecting disruptive change that have potential investment implications for an industry or group of securities. We share these with our clients who may already have or may be considering exposure in the industries affected. The subjects change daily and constitute an excellent update on featured topics.
United States, Nonfarm Payrolls, JUN: 222K from prior 152K
United States, Unemployment Rate, JUN: 4.4% from prior 4.3%
United States, Baker Hughes Oil Rig Count, JUN/30: 763 from prior 756
Finland, Balance of Trade, MAY: 290M from prior -353M
France, Industrial Production, MoM, MAY: 1.9% from prior -0.6%
Czech Republic, Industrial Production, YoY, MAY: 8.1% from prior -2.5%
Taiwan, Exports, YoY, JUN: 13% from prior 8.4%
Gold Bonds – RBI to sell gold bonds, an opportunity to own paper gold
The Reserve Bank of India has opened a new window for selling gold bonds, an opportunity for investors to own the precious metal on paper after jewellery became more expensive following implementation of the Goods and Services Tax. Investors can apply for the Sovereign Gold Bond 2017-18 – Series II through banks, the stock exchanges, select post offices and the Stock Holding Corporation of India from July 10 to 14, the RBI said in a statement on Thursday. The tenor of the bonds will be eight years with exit options from the fifth year to be exercised on interest payment dates, the RBI said. Investors will be paid a fixed rate of 2.5 per cent per annum semi-annually on th e nominal value of gold. EC
Commodities – Energy commodity prices declined more than other commodities in the first half of 2017
The energy component of the Standard and Poor's Goldman Sachs Commodity Index (GSCI) fell 11% during the first half of 2017, the largest decline for any commodity group in the index. Other components of the indexlivestock, industrial metals, precious metals, and agriculturehad end-of-June prices that were higher than at the beginning of the year. Supply-side developments unique to energy commodities likely contributed to the divergence. Because two major crude oil price benchmarks, West Texas Intermediate (WTI) and Brent, account for 70% of the weighting in the S&P GSCI energy index, the energy index tends to fo llow major price movements in the crude oil market. During the first half of 2017, WTI crude oil prices declined by 12%, while Brent prices fell 14%. EIA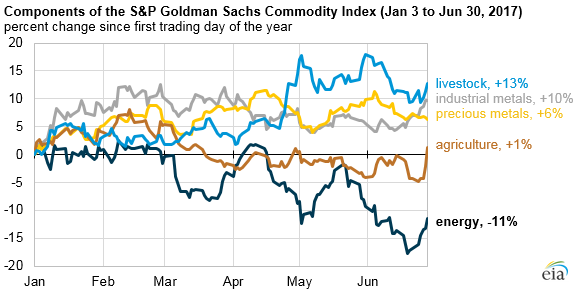 *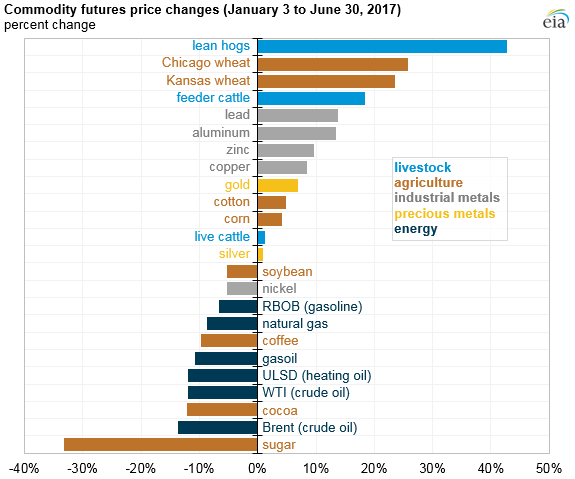 *
Trade Wars – EU targets Kentucky bourbon in steel retaliation
EU officials have begun assembling a list of US goods including whiskey, orange juice and dairy products to target for retaliation over Donald Trump's plans to invoke national security concerns to limit steel imports. The EU's contingency plans, which have emerged as Mr Trump and other leaders gather at a G20 summit starting on Friday, highlight the tensions set off by the US president's threat to impose new tariffs or quotas on steel which analysts say could provoke a new trade war. US officials insist Mr Trump's plans will increase pressure on China and force Beijing to stop flooding global markets with cheap steel. FT
Canada Economy – Job Gains Cap Best Quarter Since 2010
Canada added more than four times the number of jobs economists had expected in June, capping the best quarter since 2010 and solidifying the view the Bank of Canada will raise interest rates at its meeting next week. The 45,300 gain was the seventh in a row, taking the jobless rate to 6.5 percent from 6.6 percent, Statistics Canada reported Friday from Ottawa. Faster employment growth adds to evidence of a broadening economic recovery.
Bank of Canada Governor Stephen Poloz has touted the improvement in recent weeks and signaled it may be time to raise interest rates from extraordinarily low levels. Investors pushed bets for the central bank's 0.5 percent rate to rise at the July 12 meeting even further after the job report, with trading in overnight swaps climbing to 94 percent from 86 percent on Thursday. B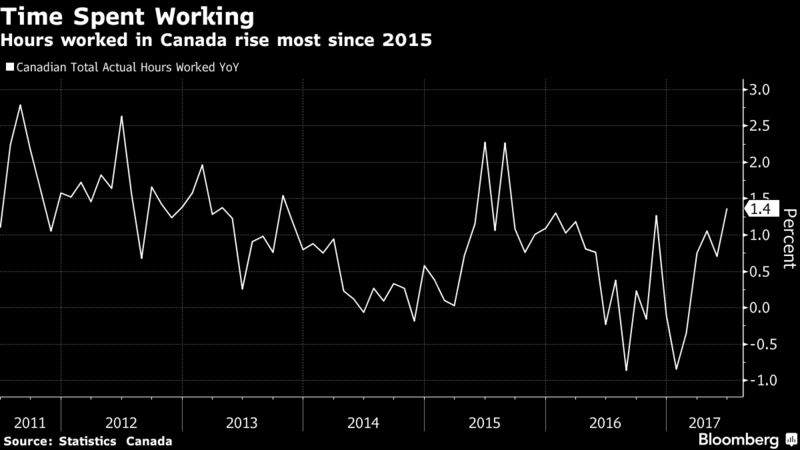 *
US Economy – U.S. adds 222,000 jobs in June as hiring surges
The U.S. created 222,000 new jobs in June as hiring accelerated in the spring, showing that companies are still finding ways to add staff despite a growing shortage of skilled workers. The increase in new jobs was the largest in four months and second biggest haul of the year. Hiring was also stronger in May and April than previously reported. The pickup in hiring in the spring coincides with a fresh spurt of growth in the economy after a slow start to the year. The U.S. is forecast to grow twice as fast in the second quarter as it did in the first three months of the year. MW
*
US Economy – How the Growth of E-Commerce Is Shifting Retail Jobs
Online shopping accounts for only 8.4 percent of all retail sales in the United States, but it has had an outsize effect on the retail workforce. The hundreds of thousands of jobs created by new online firms have not absorbed the job losses at traditional retailers. At the same time, the new jobs are concentrated in a handful of large cities and tech hubs. Employment attributed to electronic shopping firms has doubled in the last five years, outpacing other types of retail. Online retailers can sell more products with fewer workers than traditional stores. Nearly three-quarters of e-commerce firms have four or fewer employees. Small metro areas and rural counties account for about 23 percent of overall retail employment but just 13 percent of jobs attributed to electronic shopping firms. NYT
| | |
| --- | --- |
| POLITICS & FISCAL POLICY | Top |
Regulation – Tech Titans Could Trigger Rewrite of Antitrust Rules
Since June 26 the day before European regulators fined Alphabet unit Google a record $2.7 billion in an antitrust case the search giant's stock has fallen 5%, versus a flat performance for the Standard & Poor's 500 index. That works out to more than $30 billion in market value erased. Europe has more cases against Alphabet pending. Facebook and Amazon, meanwhile, have fallen 3% apiece over the same stretch. All three stocks are still beating the market year-to-date. But clearly, antitrust risk for the dot-com bigs is more than a distant, theoretical issue.
Don't look for clear answers in current U.S. antitrust law. Much of it was written before the age of automobiles, to say nothing of the internet. The Sherman Act, sponsored by a brother of the famed Civil War general, was passed in 1890. For more than a century, it and similar laws have been used to fight against companies whose market dominance results in high prices or stifled innovation. But few companies are considered more innovative than Alphabet, Facebook and Amazon. Barrons
There is much more to this report! McAlinden Research Partners offers Hedge Connection members weekly access to the Daily Intelligence Briefing research for free – click here to view. (You must be logged in first). Not a member? Join today.
McAlinden Research Partners is currently offering a complimentary full month subscription of the DIB. Activate yours today – http://www.mcalindenresearchpartners.com/hc-trial.html