MRP

McAlinden Research Partners

| DIBS
We bring you our Daily Intelligence Briefing courtesy of McAlinden Research Partners. The report is provided to Hedge Connection members for free. Below is snapshot, login to view the full report. Not a member? Join today.
McAlinden Research Partners is currently offering a complimentary full month subscription of the DIB. Activate yours today – http://www.mcalindenresearchpartners.com/hc-trial.html
Daily Intelligence Briefing – August 1, 2017
FEATURED TOPIC: TOBACCO INDUSTRY FACES BIFURCATION FOLLOWING FDA PROPOSED REGULATION
Tobacco stocks have performed spectacularly well over the past decade, despite increasingly aggressive initiatives from regulators and governments around the world to curb smoking. These anti-smoking measures include higher taxes on tobacco products, location-based smoking bans, judicial rulings awarding huge compensation payouts for tobacco-related deaths, advertising restrictions, and various other regulations. Yet, tobacco companies have continued to churn profits.
Part of the industry's resilience stems from the fact that emerging markets, and their massive populations, have provided a growing customer base as smoking has declined in other markets. In Indonesia, for example, two-thirds of men and boys over the age of 15 now smoke. Furthermore, some of the demand for cigarettes is inelastic in all markets which has allowed tobacco companies to pass on the higher taxes to consumers and protect their margins.
But there is no denying that there is a secular shift away from tobacco. Hoping to accelerate that trend, the U.S. Food and Drug Administration (FDA), for the first time in history, plans to regulate the level of nicotine in cigarettes. The FDA's proposal would cut nicotine levels in cigarettes to non-addictive levels.
The FDA has also decided to delay regulation that could have removed many e-cigarette products from the markets, while possibly signaling a more permissive view on alternative nicotine delivery systems:
"We must recognise the potential for innovation to lead to less harmful products" said Scott Gottlieb, FDA commissioner… "Although he did not say nicotine was harmless, he added: "The bigger problem is the delivery mechanism how the nicotine gets delivered."
This could be the agency's "very effective nudge to business that they've got to get out of the old market and into the new," said Deborah Arnott, chief executive of the UK antismoking charity Action on Smoking and Health.
While the FDA's announcement has spooked tobacco investors, wiping out about $25bn from the combined market value of the two biggest U.S. companies, some analysts believe that a shift towards new generation products could "significantly improve long-term profit growth and sector valuations," given that tobacco companies trade at a discount to other consumer companies because of their "terminal growth rates." In fact, Big Tobacco has been steadily expanding into that space by developing e-cigarettes that turn nicotine-laced fluid into vapor, and "heat-not-burn" devices that turn tobacco into vapor without burning it ("smokeless cigarettes").
Philip Morris provides a stark example of how the shift to new tobacco products could potentially play out for the industry. The biggest listed tobacco company recently announced that the number of conventional cigarettes it sold in Japan fell by 25% to 8.3bn in a year, however, that decline was offset by smokers switching to its "heat not burn" sticks. Sales of the tobacco sticks that smokers insert into Philip Morris's iQos device rose more than five times to 5.7bn units. In other words, sales of the tobacco sticks more than outweighed the fall in cigarette sales: the combined figure rose 15 per cent to 14bn units.
Bottom line: the FDA's attempt to curb smoking could simply result in nicotine consumers getting their buzz from vaping rather than from burning tobacco. But the shake-out may cause a bifurcation of the tobacco industry whereby companies that have embraced "new tobacco" survive while the others get vaped out of business.
HERE are some recent articles on the industry (these stories are summarized in the SERVICES section)
Big Tobacco told to read FDA smoke signals on e-cigarettes

Tobacco – Disruption is finally coming to the cigarette industry

Tobacco – Cigarette maker stocks plunge on FDA announcement, but health experts are skeptical

Tobacco – F.D.A. Delays Rules That Would Have Limited E-Cigarettes on Market
CHART: Altria (MO) vs Phillip Morris (PM) vs Reynolds American (RAI) vs Vector Group (VG) vs Consumer Discretionary ETF (XLY) vs S&P 500 ETF (SPY)
---
OTHER STORIES HIGHLIGHTED IN TODAY'S DIBS:
JOE MAC'S MARKET VIEWPOINT
CURRENT MRP THEMES
| | | |
| --- | --- | --- |
| CAPEX (L) | Cybersecurity (L) | Defense (L) |
| Emerging Markets (L) | France (L) | Gaming (L) |
| Gold (L) | Homebuilders (L) | India (L) |
| Oil Services & Equipment (L) | Oil & U.S. Energy (L) | Steel (L) |
| TIPS (L) | Long Dated Treasuries (S) | Robotics & Automation (L) |
| U.S. Financials (L) | U.S. Regional Banks (L) | Value over Growth (L) |
---
About the DIBs: MRP focuses on identifying transformational change in the global economy and offering an investment thesis whenever an opportunity arises that has not yet been recognized by the market. The DIBs are MRP's compilation of articles and data from multiple sources on subjects reflecting disruptive change that have potential investment implications for an industry or group of securities. We share these with our clients who may already have or may be considering exposure in the industries affected. The subjects change daily and constitute an excellent update on featured topics.
United States, Chicago PMI, JUL: 58.9 from prior 65.7
United States, Pending Home Sales, YoY, JUN: 0.5% from prior -1.6%
United States, Dallas Fed Manufacturing Index, JUL: 16.8 from prior 15
European Union, Unemployment Rate, JUN: 9.1% from prior 9.2%
Japan, Housing Starts, YoY, JUN: 1.7% from prior -0.3%
Poland, Inflation Rate, YoY Flash, JUN: 1.7% from prior 1.5%
Colombia, Unemployment Rate, JUN: 8.7% from prior 9.4%
China Bonds – China's Newest Route for Bond Buying Is Pulling Funds Home
Since China's new Bond Connect with Hong Kong kicked off on July 3, offshore institutions have taken nearly 1.5 billion yuan ($222 million) of short-term corporate debt with a tenor of no more than one year in the primary market, and another 2 billion yuan plus of secondary transactions. With foreign investors generally preferring government bonds, offshore Chinese fund managers are leading the charge into credit, market participants say. Yields on benchmark one-year corporate debt are about 1 percentage point higher than comparable government securities.
Implied yields on 12-month offshore yuan forward contracts have fallen below the rates on bonds sold by China Development Bank — a benchmark as it's a so-called policy bank. That shift means it's become cheaper for investors abroad to hedge yuan moves and buy bonds onshore.
Bond Connect users have also been dipping into negotiable certificate of deposit, an instrument often used by smaller and regional Chinese banks to raise funds — securities that would be well known to offshore Chinese managers. Total trade in the securities reached around 2.23 billion yuan since July 3.
With some recent signs of disruption in the offshore Asian bond market, tapping the Bond Connect to buy domestic credit is all the more attractive. Three sub investment-grade companies recently canceled their debut dollar bonds as buyers sought greater risk compensation. B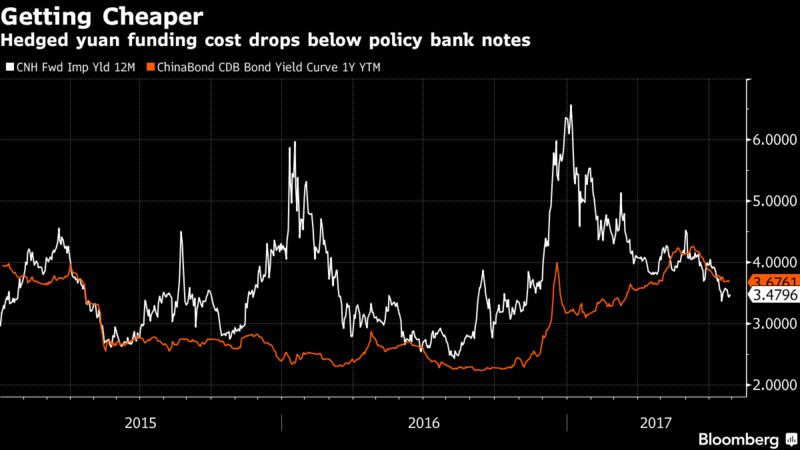 *
U.S. Stocks – U.S. Companies Post Profit Growth Not Seen in Six Years
Earnings at S&P 500 companies are expected to rise 11% in the second quarter, following a 15% increase in the first quarter. Close to 60% of the firms in the index have reported second-quarter results so far. Even as activity inside the Beltway bogged down, the markets have been on an almost nonstop rally since the election. The S&P 500 is up 16% since early November and 10% this year. Even as activity inside the Beltway bogged down, the markets have been on an almost nonstop rally since the election. The S&P 500 is up 16% since early November and 10% this year.
A weaker dollar has made it easier to sell U.S.-made goods overseas and has kept borrowing costs low. U.S. wages have improved enough to help bolster consumer spending without raising employer labor costs so much to dent the bottom line. Sales, too, rose in the quarter, by an expected 5%, the second-biggest increase in more than five years. On Friday, the Commerce Department reported that gross domestic product rose at a 2.6% rate in the second quarter, up from 1.2% in the first quarter.
As executives discuss results with investors and analysts, events in Washington have faded into the background. S&P 500 companies that mentioned President Donald Trump or his administration during their latest conference calls are down by a third compared with three months ago, according to an analysis by research firm Sentieo. The second-quarter profit gains are spread across industries from Wall Street banks to Detroit's car factories to Silicon Valley's software labs. Earnings are expected to decline only in the utilities sector. WSJ
EM – Emerging market consumer confidence hits 24-year high
Consumer confidence which aggregates data from 25 countries, has jumped sharply since the turn of the year, suggesting that a modest recent rise in consumption and broader economic growth in emerging markets have further to run.
The data, collected by Picet Asset Management, is more upbeat still than the buoyant sentiment readings coming from the developed world. In the US, the Conference Board's Consumer Confidence Index has this year risen to its highest level since 2000, while on Friday the European Commission said its Economic Sentiment Indicator had hit its highest level since August 2007. Nevertheless, Pictet's consumer confidence index hit 109.1 in May, markedly higher than a reading of 102.6 in January, and comfortably ahead of the pre-crisis peak of 105.9, seen in December 2007. Since the index was first formulated in 1989, it has been higher only once, in September to December 1993.
Perhaps unsurprisingly, Brazil and Russia, two countries recovering from nasty recessions, have seen some of the strongest rises in consumer confidence in the past 12 months, as indicated in the second chart. However, the duo are sandwiched by China where economic growth, although firming, has not risen dramatically. Picet's Patrick Zweifel partially attributes the rise in Chinese sentiment to improving labour market conditions, with real wages rising and the employment component of China's purchasing managers' indices, alongside other measures, pointing to employment growth. In contrast, Mexico has seen the largest fall in confidence since this time last year, despite the unemployment rate having fallen to an 11-year low of 3.3 per cent.
Alongside changes in real wages, he says the key factors driving sentiment across emerging markets are changes in the inflation rate and stock market performance the MSCI EM equity index is up 23.4 per cent so far this year. One mystery, thought, is that despite the jump in consumer sentiment, private consumption in emerging markets has not really reacted by jumping higher, as it has done in previous upbeat periods. Mr Zweifel believes there is something of a lag, and that consumption growth could rise to about 5.4 per cent, year-on-year, this year, compared with 4.2 per cent in 2016. FT
*
*
*
ASEAN – At 50, Asean is reaping the rewards of economic integration
The Association of Southeast Asian Nations marks its 50th anniversary on August 8. Over the decades, its purpose has shifted from fighting communism to fostering economic co-operation. The auto industry has been a driving force behind Asean's industrialisation. Carmakers in the region churn out 4m vehicles a year, not far behind South Korea, the world's sixth-largest car producer. Thanks in part to the bloc's progress in lowering trade barriers, auto parts and vehicles now regularly cross national borders. This freedom of movement has helped the industry's complex supply chains expand into developing countries such as Cambodia and Laos, which joined Asean later.
Japanese carmakers control more than 80 per cent of the Asean car market, and they are the only ones with such complex supply chains in the region. Their strategy of setting up production bases in as many countries as possible suits member countries that are eager to attract manufacturing jobs. Toyota Autoparts Philippines benefits from the Philippines government's special economic zone policy, which encourages exports. The company, which exports 95 per cent of its products, enjoys a special corporate tax rate of 5 per cent rather than the usual 30 per cent.
As Asean prepares to scrap in principle all intra-region tariffs in 2018, Myanmar, Cambodia, Laos and Vietnam will probably play an even bigger role in car companies' sprawling supply chains. Thailand, on the other hand, is expected to focus increasingly on factory automation and innovation. FT
*
*
*
Qatar – Qatar's imports fall 40% as blockade hits home
Qatar's imports slumped 40 per cent in June as the embargo imposed by its neighbours hurt the economy of the gas-rich Gulf state, official data show. The trade data are the first to be released since Saudi Arabia on June 5 led a quartet of nations breaking air, sea and land ties with Qatar, which they accuse of supporting terrorism and stoking instability across the Middle East. Imports in June were valued at QR5.9bn ($1.6bn,) a decline of 40 per cent on the same month in 2016 and a 38 per cent fall from May this year.
The quartet of blockading nations, led by Saudi Arabia, on Sunday said they were "ready for dialogue" as long as Qatar announced a "sincere willingness" to cease terrorist financing, ended interference in other states' affairs and responded to their 13 demands. The demands included the closure of the Qatar-backed Al Jazeera news network, the departure of Turkish troops from Qatar and the payment of reparations.
Total exports amounted to QR18.4bn in June, an increase of 5.4 per cent on June 2016 as exports of the country's most valuable commodity gas-related products rose 15.8 per cent.
But total exports in June were down about 10 per cent on May 2017. Qatar, the world's leading exporter of liquefied natural gas and a big overseas investor, has bound itself into the world's economy, raising the global importance of the Gulf crisis. Qatar is reorienting supply chains through ports in Oman, which has remained neutral in the crisis. FT
UAE – GDP per head declines sharply in United Arab Emirates
While the United Arab Emirates is ranked 26 out of 190 countries in this month's annual World Bank report on ease of doing business, in terms of long-run real income per person at least, the UAE has performed far worse than any of its five Gulf Cooperation Council peers.
Since 1980, when the IMF began collating data, per capita gross domestic product in the quintet of Bahrain, Kuwait, Oman, Qatar and Saudi Arabia, measured in purchasing power parity terms, has jumped by between 43 per cent (Saudi Arabia) and 434 per cent (Oman). Yet it has declined by 8.7 per cent in the UAE. With the rest of the region making decent strides, the UAE has now been overtaken by Kuwait, while Saudi Arabia, Bahrain and Oman have closed the gap with their once far more wealthy neighbour. From the second-wealthiest country in the world by this measure (behind Qatar in 2004) it has fallen to ninth place.
The divergence in regional performance appears to be largely driven by a sharp rise in the UAE's population which, according to IMF estimates, more than doubled between 2004 and 2009 to 8.2m, as foreign workers arrived en masse to provide the labour for the UAE's construction, tourism and finance booms before the global financial crisis. From 2004 to present, the population of the UAE has risen by 170 per cent.
Given that these expatriates are working, they will be adding to GDP, as well as population. However, a combination of the fact that many are relatively low-skilled labourers from the Indian subcontinent, and that about 30 per cent of the UAE's GDP still comes from the oil and gas sector, the output of which has not been raised by rising population, means that, since 2004, GDP growth has not kept pace with the swelling population. FT
*
*
There is much more to this report! McAlinden Research Partners offers Hedge Connection members weekly access to the Daily Intelligence Briefing research for free – click here to view. (You must be logged in first). Not a member? Join today.
McAlinden Research Partners is currently offering a complimentary full month subscription of the DIB. Activate yours today – http://www.mcalindenresearchpartners.com/hc-trial.html