MRP

McAlinden Research Partners

| DIBS
We bring you our Daily Intelligence Briefing courtesy of McAlinden Research Partners. The report is provided to Hedge Connection members for free. Below is snapshot, login to view the full report. Not a member? Join today.
McAlinden Research Partners is currently offering a complimentary full month subscription of the DIB. Activate yours today – http://www.mcalindenresearchpartners.com/hc-trial.html
Daily Intelligence Briefing – August 9, 2017
FEATURED TOPIC: MIFID II IS ABOUT TO DISRUPT THE GLOBAL FINANCIAL INDUSTRY
The European Commission's initiative, titled Markets in Financial Instruments Directive (aka "MiFID II"), comes into force on January 3, 2018, and is expected to radically transform how banks, brokerages and fund managers interact.The MiFID II rules cover securities markets and investment firms in the EU, but, the interconnectivity of capital markets around the globe and the existence of cross-border advisory agreements ensures that there will be a spillover effect into other regions.
For example, one far reaching directive requires fund managers that do business in the EU or that have clients in the EU to unbundle research costs from trading commissions. As of January 2018, those investment managers must present clear budgets for research to their investors, identifying the cost as a distinct line item. U.S. managers are not required to follow this rule for domestic investments and clients, however, most are expected to comply simply to avoid the challenge of having to operate two separate infrastructures one for U.S. rules and another to follow EU regulations.
Several major asset managers, European and US-based, have opted to pay for the research outright rather than deal with the complexity and cost of establishing research budgets. Most managers, however, are still seeking clarity on what banks will charge before they decide which route to take.
Complicating matters is the fact that U.S. brokers are forbidden to receive direct payment for research unless they are registered as investment advisers. In other words, the MiFID II treatment for research fees is at odds with U.S. regulation, so the industry must also wait for SEC guidance on whether direct payments will be permitted under local law.
Nevertheless, frantic negotiations over the value of research have already begun. Some large banks are requesting up to $1m for annual access to their research, plus $5,000 for an hour's chat with a star analyst. The majority of banks are pricing their offerings between $100K and $500K. Price discovery is a long process, and only time will tell what each firm's research is really worth.
One common opinion is that the unbundling will make it more difficult and costly for active money managers to obtain analysis on what stocks to buy or sell. In contrast, others believe that the reduced clutter and ensuing improvement in product quality will greatly benefit active managers. The sheer number of sell side economists, analysts, and strategists (about 6,000 at the 12 largest banks) means that a lot of work is duplicated. Over 40,000 pieces of research is emailed every week by the bigger banks and brokerages, but only 2-5% of those research emails are read.
More importantly, assigning a price tag to research will facilitate attribution analysis and encourage managers to assess research on the basis of return on investment. That kind of accountability will help separate the winners — those that help direct capital to where it can be most effective — from the losers, much like performance attribution helps investors identify alpha generating managers. Research providers will have to improve the quality of their work and price it competitively to stay in the game. Fund managers that fail to select alpha-generating research will not only experience poorer performance, they will have to justify why they are sticking with certain providers.
The research unbundling rule radically alters long standing business practices between investment houses and brokerage firms. Indeed, it's a game changer that could boost research aggregation and distribution platforms such as Visible Alpha and Streetcontxt, while enabling independent research providers to compete more directly with investment banks for research budgets. The total annual budget for analyst research stands at about $16bn, however, 30% of global asset managers plan to slash their budgets by a third, according to Quinlan & Associates. The combination of cost-cutting and regulations will push many investment groups to ramp up their internal research teams.
Just as post-crisis financial regulation in the U.S. hurt small banks disproportionately more than their larger counterparts, so too will the new MiFID II rules hurt smaller fund managers and broker dealers. Regulators will be collecting data on 15 million financial instruments from over 300 trading venues, which will result in higher compliance costs for banks and brokers. So, while the requirement for best execution might level the playing field somewhat and help some independent brokers capture trading market share from investment banks, smaller brokerage firms may find that the higher compliance and technology expense of running a trading desk puts them at a disadvantage. Similarly, small asset manager s will be penalized by their inability to compete with the research budgets of mid-size and large investment houses.
MiFID II certainly goes beyond unbundling research from trading. Several directives – such as those that limit trading in private exchanges and that require brokers to post prices and trades for a broad range of securities – will drive more trading onto regulated platforms. Over 80% of cash equity products are already traded electronically, but for fixed income derivatives and investment grade credit products, that figure is closer to 70% and 40% respectively, so there is room for growth. The beneficiaries of that growth will be electronic trading platforms. Trade reporting tools, order management systems, and regTech and compliance firms will also be in greater demand.
High frequency traders could be adversely affected by a new requirement that calls for computer algorithms to be registered with regulators, to be tested, and to include circuit breakers that can shut them down.
HERE are some recent articles on MiFID II (these stories are summarized in the FINANCE Section)
MiFID II – Trillions in Stock and Derivative Trades at Risk Over New EU Rules

MiFID II – Big asset managers struggle to meet Mifid II deadline

MiFID II – Vanguard breaks ranks to pay for analyst research

MiFID II – Thomson Reuters Integrates Eikon with New MiFID II Regulation on Research

MiFID II – MiFID II may end up aiding active management firms

MiFID II – US asset managers prepare for impact
CHART: Capital Markets ETF (KCE) vs Broker Dealers ETF (IAI) vs S&P 500 ETF (SPY)
---
OTHER STORIES HIGHLIGHTED IN TODAY'S DIBS:
JOE MAC'S MARKET VIEWPOINT
CURRENT MRP THEMES
| | | |
| --- | --- | --- |
| CAPEX (L) | Cybersecurity (L) | Defense (L) |
| Emerging Markets (L) | France (L) | Gaming (L) |
| Gold (L) | Homebuilders (L) | India (L) |
| Oil Services & Equipment (L) | Oil & U.S. Energy (L) | Steel (L) |
| TIPS (L) | Long Dated Treasuries (S) | Robotics & Automation (L) |
| U.S. Financials (L) | U.S. Regional Banks (L) | Value over Growth (L) |
---
About the DIBs: MRP focuses on identifying transformational change in the global economy and offering an investment thesis whenever an opportunity arises that has not yet been recognized by the market. The DIBs are MRP's compilation of articles and data from multiple sources on subjects reflecting disruptive change that have potential investment implications for an industry or group of securities. We share these with our clients who may already have or may be considering exposure in the industries affected. The subjects change daily and constitute an excellent update on featured topics.
United States, NFIB Business Optimism Index, JUL: 105.2 from prior 103.6
United States, JOLTs Job Openings, JUN: 6.163M from prior 5.702M
United States, IBD/TIPP Economic Optimism, AUG: 52.2 from prior 50.2
Germany, Balance of Trade, JUN: 22.3B from prior 22.0B
France, Balance of Trade, JUN: -4.7B from prior -4.4B
Lithuania, Inflation Rate, YoY, JUL: 3.9% from prior 3.6%
Taiwan, Inflation Rate, YoY, JUL: 0.77% from prior 1.00%
| | |
| --- | --- |
| POLITICS & FISCAL POLICY | Top |
Corporate Law – Companies Can Put Shareholders on a Blockchain Starting Today
Blockchain got a big boost on Tuesday when a Delaware law went into effect that lets corporations maintain shareholder lists, along with other corporate records, using the technology. Already, several companies, including the retailer Overstock, say they intend to use it.
Delaware's decision to bless blockchain is significant because the state is America's de facto corporate law capital, and more than two-thirds of Fortune 500 companies are incorporated there. According to lawyers and state officials, the new law ensures companies will not face legal trouble if they choose to keep a list of shareholder names, which they must do by law, on a blockchain instead of conventional methods like an Excel spreadsheet or a SQL database. The state is working with a company called Symbiont to integrate its own records onto blockchain ledgers.
Blockchain technology, along with the cryptocurrencies like bitcoin that are created by it, is the midst of a hype cycle. By this time next year, it's unlikely corporate record keeping will be much different than it is now. But in two to five years, the change could be profound. Fortune
MiFID II – Trillions in Stock and Derivative Trades at Risk Over New EU Rules
The European Commission is racing to determine whether the rules in countries such as the U.S., Switzerland and Singapore are as tough as those that start in Europe on January 3. Without such equivalence decisions, MiFID II could disrupt trading on platforms in those countries, fracturing global markets and potentially driving up costs.
The loss of equivalence could upend years of firms' cross-border trading reach and may force global securities businesses to reinvent workflows, reorganize internally, or set up shop abroad for tasks as simple as buying a share of a U.S. company.
Many large companies have shares listed on exchanges around the world, but the new rules state that if a stock is traded on an EU-regulated platform, EU investment firms must do all their transactions there. Venues outside the bloc can be used only if the home country's rules are deemed equivalent. So without an equivalence ruling, trading could be forced off platforms outside the EU, and on to a smaller EU venue.
Take Apple, which trades on New York-based Nasdaq and on Frankfurt-based Deutsche Boerse's Xetra exchange. Apple's shares on Nasdaq had an average daily value traded of $3.8 billion in the past year, compared with 3.4 million euros ($4 million) on Xetra. "One of the underpinnings of MiFID is that people have to have best execution," said Nick Dutton at CBOE's Bats Europe unit "People could be getting demonstrably worse prices because they're trading where there is worse liquidity."
A similar equivalence decision is crucial for the $483 trillion global derivatives market. The commission must determine that non-EU trading venues are subject to effective oversight. When similar U.S. swap-trading rules began in 2013, trans-Atlantic volumes declined as big banks moved business in euro-denominated contracts to their European offices from the U.S. B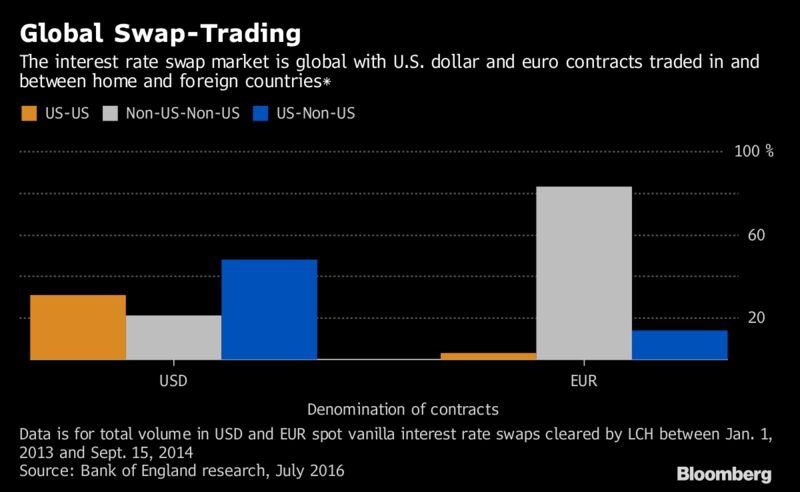 *
MiFID II – Big asset managers struggle to meet Mifid II deadline
Under Mifid II, asset managers must split out the cost of investment research and trading for the first time. They will also have to tell investors how much of their money is being spent on analyst research. This has prompted some asset managers to decide it will be simpler to cover the payments themselves.
Most large investment houses – including Franklin Templeton, Allianz Global Investors, Fidelity International, Natixis Global Asset Management, Old Mutual Global Investors, Axa Investment Managers, Ashmore, Royal London, Candriam and Aviva Investors – are still considering whether to pay for the cost of research internally or to pass it on to investors. For many, the decision on how to pay for research has been hampered by divergent rules in the US and Europe. US brokers are prevented from receiving direct payment for research unless they are registered as investment advisers.
According to a poll of 562 asset managers by RSRCHXchange, in June, 36% of fund houses had not decided how to pay for research, down from 50% at the end of 2016. Vicky Sanders, co-chief executive of RSRCHXchange, said choosing a payment method was not easy, because fund houses have to factor in issues such as strategy, the type of client and research requirements. FT
MiFID II – Vanguard breaks ranks to pay for analyst research
Vanguard has become the first large US asset manager to decide to stop charging investors for analyst research ahead of new Mifid II rules that end the opaque system of receiving research for free in return for placing trades with banks and brokerages. The $4.4tn fund manager will cover the cost of external analyst research from its own profit and loss account in a move that is expected to cost the company up to $100m annually and pressure rivals to follow suit.
This has prompted several European asset managers, including Jupiter, M&G and Aberdeen, to decide to absorb the cost of research on the basis that this is simpler and fairer for clients. Aberdeen, which is a 10th of the size of Vanguard in terms of assets, has budgeted $10m for research payments annually once the rules are in place next year.
Other US asset managers have held back from revealing how they will respond to the new regulatory regime until they have more clarity on how much banks plan to charge for research from star analysts. Initial prices have sparked controversy, with some banks requesting up to $1m for annual access to their research reports or $5,000 an hour for meetings with top-rated analysts.
The US industry is also waiting for the Securities and Exchange Commission to give guidance on whether direct payments for research are permitted under local laws. FT
MiFID II – Thomson Reuters Integrates Eikon with New MiFID II Regulation on Research
Thomson Reuters has integrated and enhanced its flagship financial desktop Eikon with MiFID II research unbundling requirements. The new features will help brokers to meet the flexible segmentation requirements under MiFID II. It will provide seamless entitlement request and response functionality for the sell-side and buy-side through the Research Management Console, and a comprehensive Research Entitlement API for contributor CRM integration. Thomson Reuters has also enhanced its readership reporting systems with better usage tracking to support the buy-side client.
The platform will provide clients with the ability to analyse sell-side analyst quality, manage entitlements to external research, gain market depth through improved research discovery, and effectively evaluate a firm's research team. The feature will help clients to overcome the restrictions imposed by MiFID II on free research and its structure based on specific trading or investing decisions. Thomson Reuters earlier teamed up with Tradeweb to roll out a new suite of reporting services and help market participants to meet the new MiFID regulations. FinanceMagnates
MiFID II – MiFID II may end up aiding active management firms
When it comes to MiFID II, what does not kill active managers will make them stronger. So say some analysts, whose views run counter to the common opinion that required research-cost transparency will make it more difficult and costly for active money managers to obtain analysis on what stocks to buy or sell.
Many firms, particularly midsize firms, will be able to fund their own research through the reduced execution costs that are expected to result from the unbundling rule. The benefits include the reduced clutter of unnecessary analysis and the potential for greater use of technology to pinpoint what kind of research is providing the most alpha, Mr. Curley said.
The quality of that research will also improve as a result of unbundling, Mr. Douglas said, particularly in avoiding "herding" among managers whose strategies look the same because they're using the same sell-side research. He said managers with more targeted, cost-efficient research could create strategies that "are more different than the benchmark," taking more active positions, and by doing so potentially increase their returns.
Unbundling will also prompt research to be viewed in terms of its actual return on managers' investment, said Charles Poliacof at Visible Alpha, which provides data on investment research to money managers. "If (managers) look at research in terms of return on investment, providers will have to focus on presenting a great research product for the sell side as a business and the buy side as an investment generator." P&I
MiFID II – US asset managers prepare for impact
All told, MiFID II will impact seven key areas: investor protection; transparency; data publication; micro-structural issues; requirements applying to and on trading revenues; commodity derivatives; and portfolio compression. The main difference between MiFID I and MiFID II is the level of prescription of rules, which was previously largely left to Member States, but is now enshrined in EU legislation and EU technical standards. However, much like MiFID I, MiFID II regulates portfolio management, though it does not regulate fund management.
US managers must pay attention to MiFID II if they have clients in the EU, if they have manager or distributor affiliates in the EU and to the extent they trade on EU markets. Under MiFID II, EU sub-advisers will be regulated as MiFID 'investment firms' and, as such, the EU entity will need to redesign its systems and processes to achieve compliance with the new regime.
The Directive will even impact US asset managers which do not have a European entity if they trade on European markets or with European brokers. These managers will be subject to EU commodities position limits, which apply extraterritorially. Their brokers will need to perform additional due diligence on them, to be able to provide them with market access.
Additionally, they will have to consider changes being made to the European trading landscape, which mean a shift of OTC trading and a big increase in the data disclosed to the market – including for bonds and swaps. Indeed, post-implementation, US asset managers could see higher costs and reduced liquidity when trading European securities, especially in the fixed-income and OTC derivatives markets. Financier
Communication – Number of social media users passes 3 billion with no signs of slowing
The latest Global Digital Statshot from We Are Social and Hootsuite reveals that the number of people using social media around the world has just passed the momentous three billion mark, and growth trends show no signs of slowing either, with the number of active social media users growing at a rate of one million new users per day over the past quarter.
Facebook delivered a significant portion of social media growth over the past 4 months, with the platform surging past the two billion MAU mark to reach 2.046 billion monthly active users. Other key social platforms posted solid growth in the past few months too, notably YouTube, whose recent updates to global user figures put the platform in second place in our global MAU (monthly active user) rankings, with 1.5 billion active users.
WeChat consolidated its lead in China, with more than 870 million people in the Chinese mainland now using Tencent's most popular platform that's more than 90 percent of the platform's total 938 million users. Other Asian platforms such as Japan's LINE and Korea's Kakao Talk also posted gains in their userbase.
Mobile adoption continues to grow steadily around the world, with GSMA Intelligence reporting growth of more than 650,000 new users each day since the last TNW report. Meanwhile, the latest data from Ericsson show that our love affair with mobile connectivity continues to strengthen too, with the average smartphone user now consuming more than 2.3GB of mobile data every month via their mobile devices.
The latest data from Ericsson show that our love affair with mobile connectivity continues to strengthen too, with the average smartphone user now consuming more than 2.3GB of mobile data every month via their mobile devices. This 70 percent year-on-year increase versus June 2016 reflects the increasing variety of activities that we perform on our smartphones. TNW
*
*
*
*
*
*
*
Casinos embrace esports even as they work to understand it
Competitive video game tournaments, known as esports, are a growing industry around the world. The fast-paced action, vivid graphics and often violent on-screen action is catnip to millennials. Kevin Ortzman, Atlantic City regional president for Caesars Entertainment, said coming up with ways to attract these millennials is a necessity for the casino industry as a whole, adding that esports players could be cultivated to embrace casinos for video game competitions the way their parents and grandparents went there to play slot machines.
As of now, the real money for casinos in esports tournaments, however, does not come from gambling, so much as it comes from ancillary spending on food, drinks and hotel rooms. The Caesars video tournament which drew 900 attendees offered $200,000 in prize money, including a $70,000 top prize.
Deloitte Global pegged the worldwide esports market last year at $500 million, up from $400 million in 2015, and estimated the industry has a global in-person or online audience of nearly 150 million people a year. Meanwhile, Newzoo, a company following the esports market, predicted in a report that esports will generate nearly $700 million this year, including media rights, ticket and merchandise sales, brand partnerships and game maker investments. The company projects that figure will surpass the $1.5 billion mark by 2019. SNet
There is much more to this report! McAlinden Research Partners offers Hedge Connection members weekly access to the Daily Intelligence Briefing research for free – click here to view. (You must be logged in first). Not a member? Join today.
McAlinden Research Partners is currently offering a complimentary full month subscription of the DIB. Activate yours today – http://www.mcalindenresearchpartners.com/hc-trial.html