We bring you our Daily Intelligence Briefing courtesy of McAlinden Research Partners. The report is provided to Hedge Connection members for free. Below is snapshot, login to view the full report. Not a member? Join today.
McAlinden Research Partners is currently offering a complimentary full month subscription of the DIB. Activate yours today – http://www.mcalindenresearchpartners.com/hc-trial.html
Today's Featured Topic
Focusing in on 3 Industries Feeling the Laser Tech Transformation
Summary: Laser technologies have begun playing a larger role across many differentiated industries. Highlighted in this report are 3 fields with strong potential for laser-powered disruption: Aerospace & Defense, Medical Technology, and Advanced Manufacturing.
Aerospace & Defense
Lasers have begun to play larger and larger roles in military modernization. To defend against enemy drones, the U.S. has already deployed more than 60 counter-drone systems or products that use radar, radio frequency, electro-optical and acoustic detecting and tracking to intercept enemy drones and either stop them, hijack their communication link or destroy them with lasers or projectiles. Boeing, for instance, has leveraged its expertise in high-energy weapons to develop the company's truck-mounted High Energy Laser Mobile Demonstrator (HEL MD) for use against air and ground targets, as well as a compact laser weapons system for use by US Marines. The company also developed the YAL-1 Airborne Laser Testbed, which was a megawatt-class chemical oxygen iodine laser (COIL) mounted inside a modified Boeing 747-400F jetliner. Other US aerospace giants, like Lockheed Martin, are involved in the U.S. Air Force Laser Advancements for Next-generation Compact Environments (LANCE) project to develop a compact, ruggedized, high-power laser to defend tactical aircraft flying at or above the speed of sound from enemy aircraft and missiles.
In an over-the-top bid to catch up with the US military's advanced laser technologies, China has begun directing more than 20 research institutes and universities to expand development of a satellite with a powerful laser for anti-submarine warfare. Researchers hope the satellite laser will be able to pinpoint a target as far as 500 meters below the surface. For reference, sunlight can penetrate no more than 200 metres below the ocean surface, but a powerful artificial laser beam can be 1 billion times brighter than the sun. Although a deployable weapon like this will not be developed any time soon, it is a sign of things to come in the future as nations undoubtedly begin weaponizing space.
Before laser-equipped satellites are inevitably weaponized, however, they will have many more peaceful applications in the interim. NASA plans to use their state of the art ICESat-2 satellite to map topographic changes in polar ice caps or the heights tree lines in forests and jungles across the globe. Meanwhile, Boeing has raised $10 million for BridgeSat, a Denver-based satellite communications company that aims to use laser technology to enable secure, high-bandwidth data transmission between satellites, other spacecraft, drones and high-altitude aircraft.
Medical Technology
Laser eye surgery has become a very popular treatment for vision impairments, with thousands of patients "going under the beam" for laser-assisted in situ keratomileusis (LASIK) procedures every year. The procedure should continue to become more safe and advanced as this year's Nobel Prize in Physics was awarded to a team of scientists responsible for the invention of optical tweezers, a technique that uses focused laser beams to hold and manipulate microscopic objects, including biological samples, as might be done with tweezers. The prize-winning team's chirped pulse amplification (CPA) method hugely boosts the power of laser pulses and could dramatically improve cancer treatment.
Additionally, lasers are now being used in the healthcare industry for everything from pain management to cosmetic dermatology.
Sufferers of chronic pain from arthritis and other joint and muscular conditions have now turned to low-level laser therapy. By using light energy to stimulate recovery, over 4,000 studies have demonstrated that laser therapy can be a solution for pain and inflammation.
Hironic, a Korean skin care medical device developer, uses its laser-enabled AFit device to treat acne by penetrating deep into the dermal and subcutaneous layers, stimulating oil and moisture absorbtion. With bipolar RF and Cryogen Cooling Device (CCD), the laser generates a maximum thermal effect in sebaceous gland and dermis.
Advanced Manufacturing
Fiber laser manufacturing is one of the most innovative advanced manufacturing methods today. Candidates for fiber laser welding include components made of nickel and titanium-based aerospace alloys requiring control of the weld geometry and weld microstructure, particularly minimizing porosity and oxidation of the weld microstructure. In many aerospace applications, the fatigue properties of the weld are a critical design criterion. For this reason alone, designers nearly always specify that the weld surfaces be convex, or slightly crowned, to create a reinforcement of the weld. Fiber laser welding provides greatly enhanced control of the process, improving weld geometry (size, shape), microstructure, and therefore, less fatigue on the weld.
The growth rate of fiber laser welding is second only to additive manufacturing (3D printing) among the many applications for high-power laser materials processing, according to a recent report of a study by Strategies Unlimited. And it just so happens that 3D printing is vastly improving with the addition of lasers, especially now that metal alloys are increasingly being utilized.
BeAM Machines is using laser-assisted 3D printing to print stainless steel jet engine components. Using a nozzle-based approach that carries metal powder in a stream of argon gas, the powder exits at the tip of the nozzle as a high-powered laser fuses the material. Any material that can be laser welded can likely be used in this process. That includes titanium alloys, steel, nickel alloys, and cobalt alloys. They are also working on aluminum. Companies including Toshiba have also begun using laser welding in 3D printed cladding.
Similarly, GE has begun applying apply additive manufacturing to components for its locomotives. If all goes according to plan, this could mean that in the next seven years GE Transportation will have an inventory of up to 250 3D printed train components. To do this, GE will leverage its specialty selective laser melting (SLM) and electron beam melting (EBM) to generate strong, reliable components.
Lockheed Martin and the Office of Naval Research also continue to explore how to apply artificial intelligence to train multiaxis robots that use laser beams to independently oversee and optimize additive manufacturing of complex microstructures.
Investors can gain exposure to several laser and photonics companies including IPG Photonics (IPGP), Coherent Inc. (COHR), and II-VI Inc. (IIVI). Although laser stocks have struggled so far in 2018 due to trade tensions driving weak performance and a sector sell off, after strong performance in prior years, the industry should be prepared for a comeback as more and more manufacturers of everything from jet engines to medical devices continue adding them into their products. Additionally, the iShares US Aerospace & Defense ETF (ITA) and The 3D Printing ETF (PRNT) represent sectors that are also primed to feel the effects of the continued proliferation of laser technologies.
We've also summarized the following articles related to this topic in the Manufacturing & Logistics section of today's report.
Lasers: MedTech: Optical Tweezers and Tools Used for Laser Eye Surgery Snag Physics Nobel
Lasers: Fiber Laser Welding as a Change Agent
Lasers: Marines Consider Compact Laser Weapon
Lasers: Lockheed Martin Enters $5.8 Million Contract with US Navy to Accelerate 3D Printing Automation
Chart: Lasers (IPGP, COHR, IIVI) vs Aerospace and Defense (ITA) vs 3D Printing (PRNT)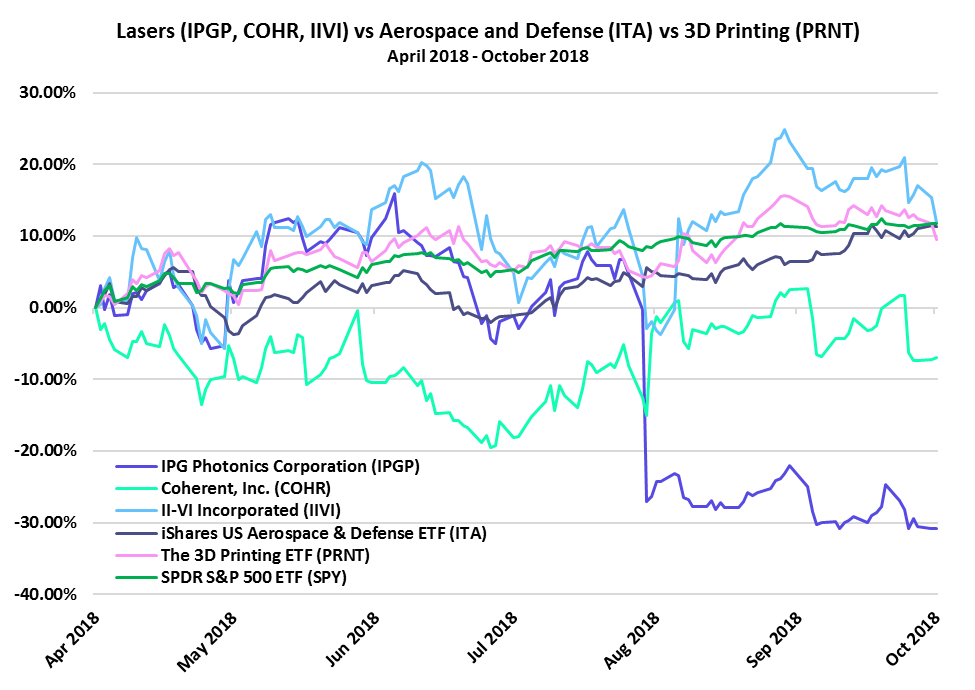 Fintech: How Digital Disruptors Serve The Unbanked In Southeast Asia
Fintech: Banks are fighting back against fintechs with new services

THEME ALERT

Banks: Fed Rethinks How to Define a Big Bank
Cannabis: This Pot Stock Mania Isn't Even Close to Dying Out
Cannabis: The DEA's surprising shift on marijuana could keep a booming $1 billion industry in check, experts say

THEME ALERT

Video Games: Chinese console and TV-based game market projected to reach $736m in 2018
THEME ALERT

Steel: Contradictory views on China's steel output. But only time will tell if production will rise or fall
THEME ALERT

Autos: September a 'tale of two hurricanes' for U.S. new car sales

THEME ALERT

Autos: US carmakers can't win Trump's trade war

THEME ALERT

Autos: Tariffs cost Ford $1 billion in profit and hurt sales in China
THEME ALERT

Oil: The Oil Industry Needs Large New Discoveries, Very Soon

THEME ALERT

Oil: Oil Shock Has Already Started in Emerging Markets
AgTech: Forget fertilizer—this startup aims to slash greenhouse gases with plant probiotics
THEME ALERT

Lithium: The Lithium Boom Has Only Just Begun
| | |
| --- | --- |
| Joe Mac's Market Viewpoint | |
| | | | | |
| --- | --- | --- | --- | --- |
| Autos (S) | | Electric Utilities (L) | | TIPS (L) |
| | | | | |
| --- | --- | --- | --- | --- |
| Long-Dated UST (S) | | Defense (L) | | Industrials (L) |
| | | | | |
| --- | --- | --- | --- | --- |
| Materials (L) | | U.S. Financials & Regional Banks (L) | | ASEAN Markets (L) |
| | | |
| --- | --- | --- |
| Oil & U.S. Energy (L) | | Palladium (L) |
| | | |
| --- | --- | --- |
| U.S. Pharmaceuticals (S) | | Gold & Gold Miners (L) |
| | | | | |
| --- | --- | --- | --- | --- |
| Robotics & Automation (L) | | Video Gaming (L) | | Lithium (L) |
| | | | | |
| --- | --- | --- | --- | --- |
| Steel (L) | | Value Over Growth (L) | | Solar (L) |
| | | | | |
| --- | --- | --- | --- | --- |
| CRISPR (L) | | Obesity (L) | | U.S. Housing (S) |
1.

Fed Says the Economy Looks Very Good

The US economy is strong, unemployment is near 50-year lows, inflation is roughly at the 2 percent objective and the baseline outlook of forecasters inside and outside the Fed is for more of the same, Fed Chair Powell said during a speech at the National Association for Business Economics. The Fed Chair added that from the standpoint of contingency planning, the course is clear: conduct policy consistent with the FOMC's symmetric 2 percent inflation objective, and stand ready to act if expectations drift materially up or down, signalling the Fed will likely continue to raise rates gradually. TE
2.

ISM New York Index Eases in September

The ISM New York Current Business Conditions index in the United States fell to 72.5 in September of 2018 from 76.5 in August, which was a new high since November of 2006. Both current (78.1 from 83.3) and expected revenues (78.1 from 87.5) slowed. On the other hand, employment rose faster (73.8 from 62), quantity of purchases increased (79.4 from 66.7) and prices paid eased (75 from 78.6). The Six-Month Outlook improved to 81.5 from 79.9, reaching the highest since December. TE
3.

Brent Holds Steady at 4-Year High

Brent crude traded near $85 per barrel on Tuesday, a level last seen in November 2014, amid looming US sanctions against Iran's oil exports and related supply concerns. US crude has also hit a four-year high this morning, surging to nearly $76 per barrel. TE
4.

Dow Jones Climbs to All-Time High

Wall Street closed mixed on Tuesday 2 October 2018, as attention switched to US-China trade talks once the United States is set to sign a new trade deal with Canada and Mexico. The Dow Jones gained 123 points or 0.5% to close at a record high of 26774. In contrast, the S&P 500 inched down 1 points or less than 0.1% to 2923, while the Nasdaq retreated 38 points or 0.5% to 8000. TE
| | |
| --- | --- |
| Disruptive Change Updates | |
Fintech: How Digital Disruptors Serve The Unbanked In Southeast Asia

Just last week, DHL launched a new service to allow the unbanked in Southeast Asia to buy online through its Cross Border Cash-on-Delivery (COD) service. This follows other new-age players like Grab/Go-Jek aggressively launching initiatives of their own to provide financial services to people who don't have banking accounts.

Banking services are synonymous with convenience. In modern society, making transfers, paying bills and making loans have all been enabled by banks and they have continued to innovate as we increasingly embraced technology. Many regional banks in Southeast Asia have created mobile applications, a solution seemingly tailor-made to the young population who access the mobile internet more than anybody else in the world.

However, banking penetration remains low in the region, with only 47% of the population in Southeast Asia having a bank account despite these new initiatives. This gap is highlighted particularly in the Philippies, where a staggering 77% of the population is unbanked. A similar magnitude of people are afflicted with the same problem in Vietnam and Indonesia at rates of 65% and 52% respectively. Forbes

Fintech: Banks are fighting back against fintechs with new services

As fintechs continue to challenge incumbents with their digital solutions, legacy players are being forced to roll out their own tech-focused services in order to keep up. Last week 70 banks connected to a blockchain network to make cross-border transfers quicker to challenge the likes of TransferWise. Now, two players are looking for ways they can improve their day-to-day interactions with customers.

Slovakia-based Tatra Banka has introduced a fully automated and digital customer authentication and onboarding process, with the help of biometrics solution provider Innovatrics' Digital Onboarding Toolkit (DOT). Customers can now open a Tatra Banka account by taking a picture of their ID card, which is then verified with the help of a selfie.

Chase has rolled out a new personal finance management (PFM) feature aimed at adding convenience for customers. The new feature enables users to lock their credit card if they have misplaced it via the banks mobile app or website. Once the card has been relocated, a user can unlock the credit card again, or if it remains lost, they can order a new card. This enables customers to wait a bit for a lost card to turn up, without worrying about fraud, and potentially avoid the hassle of ordering a new card. BI

Banks: Fed Rethinks How to Define a Big Bank

The Federal Reserve could broaden the number of banks receiving regulatory relief under an initiative that changes how it defines a big bank. As part of a series of rule changes still under development, the Fed is preparing to revise asset-size and other thresholds in its capital and liquidity rules.

The changes could lead to lower regulatory costs for some large U.S. banks, including Capital One Financial Corp. , PNC Financial Services Group Inc. and U.S. Bancorp. It is less clear the changes will help gigantic firms the Fed considers "systemically important" to the global financial system, such as Citigroup Inc. and Goldman Sachs Group Inc.

Likely candidates for the rule changes include the liquidity coverage ratio, which requires banks to hold assets they can easily convert to cash in a pinch, and "advanced approaches" rules, one of several capital regulations that limit banks' borrowing.

Fed Vice Chairman for Supervision Randal Quarles, a Trump-appointed official set to testify before the Senate Banking Committee on Tuesday, has previously said those rules are worth revisiting. "It is clear that there is more that can and should be done to align the nature of our regulations with the nature of the firms being regulated," Mr. Quarles said in testimony prepared for the hearing. WSJ

---
Services

Cannabis: This Pot Stock Mania Isn't Even Close to Dying Out

A lot of people wrote off the pot stocks the second Tilray set off volatility halt after volatility halt in a downward spiral that occurred on Wednesday, September 19, just seconds after the stock top-ticked at $300.

But if you thought the pot stocks craze was going to go away that easily, you're probably wrong. For one, these companies seem to have much more obvious (and seemingly legitimate) ties to the underlying product than say, some of the bitcoin/blockchain hanger-ons from 2017. Also cannabis is much more easily understood by Wall Street and the masses than crypto, whose uses are still misunderstood by the general public.

But I think all you have to do is go to the videotape to see that the mania isn't dying down. Just look at Tilray's chart — the stock did have a $200 per-share reversal from its September intraday peak, but it hasn't fallen further, and hasn't even consolidated. It's actually recovered by a lot — shares are up 66% in the past five sessions and the market cap is back to a hefty $15.4 billion, which is higher than that of MGM Resorts, Nasdaq, and the second-largest publicly traded homebuilder, Lennar. B

Cannabis: The DEA's surprising shift on marijuana could keep a booming $1 billion industry in check, experts say

After being greenlit over the summer as the first federally approved marijuana-based medication, an epilepsy drug called Epidiolex triggered the nation's top drug enforcer to change how it regulates CBD, the compound in marijuana not responsible for a high. It's the first time in 46 years that the agency has shifted its stance on the marijuana compound.

The move was somewhat unexpected. Barbara Carreno, a representative from Drug Enforcement Administration, initially told Business Insider that she expected the agency to reschedule CBD entirely — not just federally-approved drugs made with CBD. Carreno added that the move would unleash what she called a "sea change" for CBD manufacturers and the industry as a whole, which up until this point has existed in a legal grey area. But it appears that sea change may not occur after all. Only drugs already approved by the Food and Drug Administration will now be considered Schedule 5, the agency announced last Thursday.

Still, researchers, advocates, and entrepreneurs told Business Insider they thought the move was good news overall for patients and for the CBD industry as a whole, which has been pegged as a roughly $1 billion business. BI

Video Games: Chinese console and TV-based game market projected to reach $736m in 2018

The console and TV-based game market in China shows continued promise since the government overturned its console ban in 2014, but the grey market still plays a considerable role. Although PC and mobile dominate the region, the console and TV-based game market is expected to reach $736 million value this year, according to Niko Partners.

Data from the market intelligence firm estimated the entire console and TV-based games market to increase by 14.6 per cent year-on-year as rising software sales offset a slight hardware decline.

In terms of software, Niko Partners estimate the annual revenue from Chinese console and TV-based games to increase by 32 per cent year-on-year, reaching $471 million; this is projected to reach $897 million by 2022. Hardware revenue is projected to suffer a seven per cent decline year-on-year, down to $265 million, including legitimate and grey market unit sales.

By 2022, Niko Partners expects the number of console and TV-based gamers to have essentially doubled to 24.37 million. "Growth is driven in part by China's 2014 reversal of the console ban, lower console prices, strong international game brands, the introduction of online gaming and distribution on consoles rendering piracy virtually non-existent on current gen consoles, and localization of international games for China," said Niko Partners. GI

---
Manufacturing & Logistics

Lasers: MedTech: Optical Tweezers and Tools Used for Laser Eye Surgery Snag Physics Nobel

Optical physicists Arthur Ashkin, Gérard Mourou and Donna Strickland have won this year's Nobel Prize in Physics for "groundbreaking inventions in the field of laser physics." Half of this year's nine-million-kronor (about $1-million) prize goes to American physicist Arthur Ashkin for his invention of "optical tweezers," lasers that can probe the machinery of life without causing damage. The other half will be split jointly between French physicist Gérard Mourou and Canadian physicist Donna Strickland for their development of "chirped pulse amplification" (CPA)—a method for making ultrashort, high-intensity laser pulses now routinely used in corrective eye surgery and precision machining. SciAm

Lasers: Fiber Laser Welding as a Change Agent

Fiber laser welding is gaining attention in aerospace manufacturing. Manufacturers are looking for ways to automate manual arc-welding processes and to upgrade CO2 and lamp-pumped Nd:YAG laser welding processes to ensure greater consistency and to improve their productivity.

Candidates for fiber laser welding include components made of nickel and titanium-based aerospace alloys requiring control of the weld geometry and weld microstructure, particularly minimizing porosity and oxidation of the weld microstructure.

In aerospace applications, fiber laser welding has potential to significantly add to this growth rate because of its many advantages over Tungsten Inert Gas (TIG) and Electron Beam (EB) welding processes for welding exotic aerospace alloys. Due to stringent quality and strength requirements of aerospace components, the demands of welds made of titanium and nickel-based alloys are greater. To meet these challenges, today's laser welding technology provides superior control of the weld geometry and weld strength essential in welded aerospace assemblies.

The growth rate of fiber laser welding is second only to additive manufacturing among the many applications for high-power laser materials processing. AM

Lasers: Marines Consider Compact Laser Weapon

This summer, the U.S. Marine Corps accepted delivery of five compact laser weapon systems, and is now considering many aspects of the weapon's functionality. The service is looking for reliable, cost effective protection against the growing threat of unmanned aerial vehicles.

For ground-based applications, the weapon can be placed on a tripod and on top of its corresponding military container, which houses the electric power and cooling subsystems. The Marines will consider how to employ it at static locations as well as evaluating the possibility of vehicle-based use. The Boeing Company manufactured the compact laser weapon systems, known as CLWS, for the Marines under an initial production contract signed in 2017 and is offering the CLWS in 2-kW, 5-kW and 10-kW configurations.

Boeing touts CLWS as an affordable, modular, high-energy laser weapons system that can stand alone or be integrated onto a variety of platforms. CLWS is light enough to be carried by a couple of Marines, a company official said. And the system employs a commercial off-the-shelf laser, the same laser used in automobile manufacturing to cut out hoods. The weapon can be placed on an adjustable tripod for static ground applications or mounted onto a vehicle for mobile use, Ron Dauk, program manager for Boeing's laser and electro-optical systems, explained to SIGNAL Magazine in a recent telephone interview. SIGNAL

Lasers: Lockheed Martin Enters $5.8 Million Contract with US Navy to Accelerate 3D Printing Automation

Lockheed Martin, a Maryland-based aerospace and defense company, and the U.S. Department of Defense's (DoD) executive branch, the Office of Naval Research (ONR) have partnered to accelerate the automation of industrial additive manufacturing systems. In a two-year, $5.8 million contract, the partners, led by Lockheed Martin's Advanced Technology Center, will apply software and sensor modifications to multi-axis 3D printing robots, to develop artificially intelligent additive manufacturing machinery.

Industrial additive manufacturing processes may rely on technicians to monitor production and post-production. Complex 3D printed parts must also meet industry requirements, which can involve hours of build quality testing. Through this partnership, researchers intend to reduce such manual operations by applying machine learning techniques to create smart robotic additive manufacturing systems.

Prior to this, exploring the innovations of additive manufacturing software, Lockheed Martin invested $100 million into the New York-based AM software company nToplology to help streamline its design and manufacturing processes.

Moreover, last year, the company invested $350 million in a state-of-the-art aerospace production facility, complete with industrial grade 3D printers and "virtual immersion environments." 3DPI

Steel: Contradictory views on China's steel output. But only time will tell if production will rise or fall

Reports by the Australian government and other economic analysts that Chinese steel production has peaked are at odds with the expectations by local observers that the government's infrastructure push will underpin demand.

A new Australian government report predicting China's steel production will peak this year and start to decline over the next two years is at odds with expectations in the mainland that output will actually increase because of the government's renewed focus on infrastructure investments to stabilise economic growth.

Steel output in China, by far the world's largest steel producer, is "forecast to peak" at 886 million tonnes this year, but will shrink over the period to 2020 to 842 million tonnes, according to a quarterly report on resources and energy released by Australia's Department of Industry, Innovation and Science on Tuesday. The department also estimated Chinese steel consumption would slump by 1.9 per cent in 2019 and 2.3 per cent in 2020 after increasing 2.8 per cent this year. The report said the reversal of the mainland production trend will be driven by a series of government policies, including stricter environmental regulation, reforms that will shutter some loss-making production capacity, and reduction in debt at state-owned enterprises.

Canberra's forecast matched predictions by other organisations, most notably Morgan Stanley and S&P Global Ratings. SCMP
There is much more to this report! McAlinden Research Partners offers Hedge Connection members weekly access to the Daily Intelligence Briefing research for free – click here to view. (You must be logged in first). Not a member? Join today.
McAlinden Research Partners is currently offering a complimentary full month subscription of the DIB. Activate yours today – http://www.mcalindenresearchpartners.com/hc-trial.html