| | | |
| --- | --- | --- |
| Daily Intelligence Briefing | | Tuesday, December 13, 2022 |
Identifying Change-Driven Investment Themes
THEME ALERT: AN ACTIVE MRP THEME
I. Today's Thematic Investment Idea
A deep dive into a market driver with alpha generating potential.
The Daily Intelligence Briefing is published by McAlinden Research Partners. The report is provided to Hedge Connection blog readers once per week for free. Below is just one of the five sections that delivers Change-Driven Investment Themes everyday.

Saudi Arabia Cements Status as Fastest-Growing G20 Economy, Advances Investment Ambitions

Summary: Saudi Arabia remains on track to be the fastest-growing major economy in the world this year while posting a budget surplus in excess of $100 billion – the Kingdom's first in 10 years. Though oil prices have fallen from their 2022 highs, they remain well-above Saudi Arabia's fiscal breakeven level, meaning it has a good chance of sustaining a surplus next year as well. Budget surpluses are significant for the Saudis since it means they are very capable of funding several investment initiatives under their Vision 2030 project, which aims to diversify the Kingdom's economy by bolstering non-oil industries.

Construction is underway on some of the most lofty Saudi projects, including Neom, a brand new developmental region along the northwestern coast of the Arab peninsula. Plans have recently been laid out for a new airport as well, which is meant to handle annual traveler volumes of 120 million by the end of the decade. Saudi Arabia is also boosting cooperation with China, just last week signing off on $50 billion of new investment agreements.

Related ETF: iShares MSCI Saudi Arabia ETF (KSA)
McAlinden Research Partners is offering a complimentary 60 day subscription to receive the full Daily Intelligence Briefing to Hedge Connection clients/friends.
Activate your Free Trial now
In keeping with the country's economic breakout this year, the General Authority for Statistics reported that Saudi Arabia's GDP expanded at an annual pace of 8.8% in Q3, stronger than a preliminary estimate of 8.6% due to further expansion in the non-oil economy. That means it is on track to be 2022's fastest-growing G20 economy with expected full year growth at 8.5%.
A significant portion of that growth, unsurprisingly, has come from the country's vast energy sector, with oil-related GDP growing 14.2% in the third quarter. However, the non-oil economy of the country grew a solid 6.0%. Saudi Arabia is unlikely to sustain GDP growth at current levels – the country projects more modest full-year growth of 3.1% in 2023 – but what matters most is how the Kingdom leverages this year's advantage to influence the future of their economy.
Strong oil revenues have been a critical lifeline in working to expand other sectors of their economy as part of the Vision 2030 project – a major investment initiative meant to attract new business to the country, diversify away from oil, ease social restrictions, and establish a legacy for the Crown Prince and Prime Minister of Saudi Arabia, Mohammed bin Salman. MRP has been following the implementation of Vision 2030 since 2018, which was temporarily hamstrung by COVID-19 and low energy prices that were nowhere near what the country needed to address its budget.
Though energy prices have gradually fallen throughout the past several months, with the decline in crude oil futures intensifying in the November-December period, investments in the country's drilling and production infrastructure have helped Saudi Arabia whittle down their fiscal breakeven price, the minimum level at which the Kingdom can balance its budget. Per the latest IMF figures, that breakeven price declined from $106.30 to $73.33 between 2014-2022, and now even further to just $66.77 for 2023. International benchmark Brent crude is currently trading close to $78.50 per barrel, about 18% greater than the breakeven level. Per CNBC, Saudi Arabia will register a budget surplus of 102 billion riyals ($27 billion) for 2022, the first such surplus in 10 years. Even with average crude oil prices likely to be lower in 2023 than this year, Saudi Arabia expects to maintain a budget surplus, albeit a smaller one, worth 16 billion riyals ($4.25 billion) in the year ahead.
For instance, MRP noted in October that Saudi Arabia plans to launch a second national airline and is seeking up to 80 new planes from Airbus and Boeing. Bloomberg reported that the potential purchase, funded by the Kingdom's Public Investment Fund (PIF), is seeking an initial order of 40 planes and purchase options for a similar number. Per Skift, 40 A350 jets from Europe's Airbus would be equivalent to a price tag of about $12 billion.
Transportation in and out of the Saudi capital, Riyadh, will be critical in making it a global hub for business. To facilitate this, Saudi Arabia recently announced its masterplan for King Salman International Airport — touted to be one of the world's largest airports at more than 57 square kilometers. The airport aims to accommodate up to 120 million travelers by 2030, contributing $7 billion annually to the country's non-oil GDP, and potentially creating 103,000 jobs. Middle East Monitor notes that Saudi Arabia is already the most-visited country in the Arab world, according to figures released by the World Tourism Organization (WTO), with over 18 million tourists visiting the Kingdom thus far in 2022, surpassing the United Arab Emirates' (UAE) volume of tourists at 14.8 million.
Perhaps the largest project Saudi Arabia is focusing on is Neom, a new developmental region along the northwestern coast of the Arab peninsula, built on an expanse of land the size of Belgium. The key subproject of Neom is "The Line"; two parallel skyscrapers that cut through the Arabian desert for 170 kilometers, meant to accommodate 9 million people on a footprint of just 34 square kilometers. Originally met with skepticism about its feasibility or whether it would ever even get off the ground following several setbacks, construction on The Line has continued steadily since at least October when MRP first highlighted several projects designated within Neom. Recent satellite images acquired by MIT Technology Review, reviewed by Soar Earth, suggest that workers on the site have already excavated around 26 million cubic meters of earth—78 times the volume of the world's tallest building, Duabi's Burj Khalifa.
Saudi Arabia is also positioning itself to become a major geopolitical force by forming strong partnerships with large economies that hope to forge a path forward, beyond the US's longstanding global hegemony. Last Friday, Chinese President Xi Jinping and Crown Prince bin Salman, participated in a major meeting as part of a broader summit between the nations. Vox reports that a critical agreement was struck between that the two nations, stipulating each would not interfere with the other's domestic affairs. China is already Saudi Arabia's largest trading partner and, per Bloomberg, about $50 billion of new investment agreements were signed during the summit. That included more than 30 agreements signed between Saudi and Chinese companies, covering green energy, logistics, cloud computing and housing.
THEME ALERT
MRP added LONG Saudi Arabia to our list of themes on October 26, 2022, due to our expectation that the Kingdom's economy was finally set to undergo a major transformation following a massive injection of capital via this year's rapid GDP growth and sizeable budget surplus, as well as sustained surpluses in years to come. With national revenues surpassing what is needed to balance the budget and maintain strong levels of investment in the country's non-oil economy, Saudi industries from renewable energy to banking and finance are expected to experience a significant expansion.
Many of Saudi Arabia's long-term plans – particularly those apart of the Vision 2030 plan – have long been met with skepticism, but it has just come out on the other side of a global pandemic largely stronger than it went in; a testament to the staying power of the Kingdom's industry and political order. We will continue to monitor the transformative change taking place in Saudi Arabia's economy.
Since we added LONG Saudi Arabia to our list of Active Themes, the iShares MSCI Saudi Arabia ETF (KSA) has declined -15%, thus far underperforming the S&P 500 gain of 4%.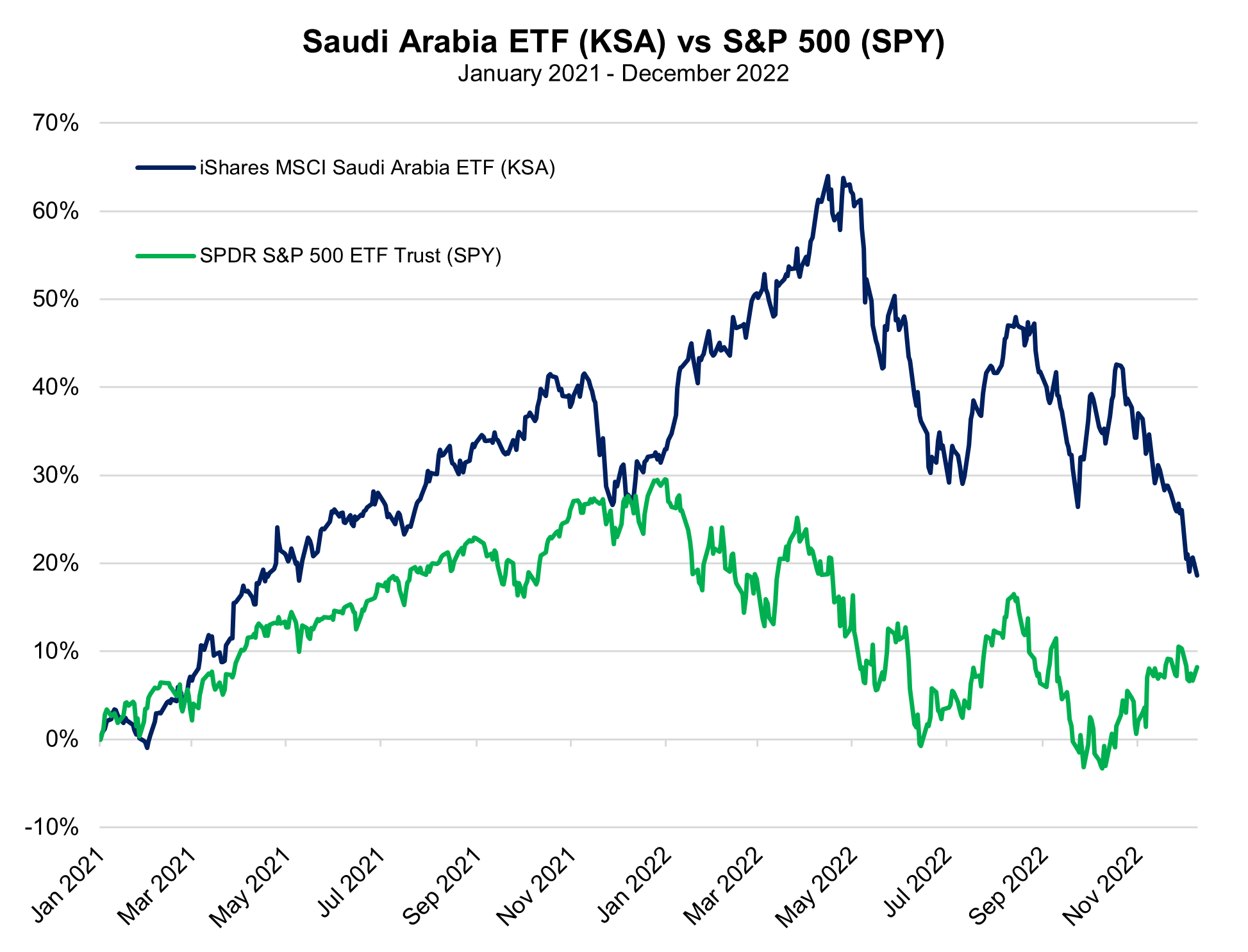 There is much more to this report! McAlinden Research Partners is offering a complimentary 60 day subscription to receive the full Daily Intelligence Briefing to Hedge Connection clients/friends.
Activate yours by signing up today!